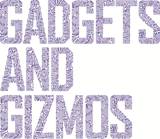 The 'Gadgets and Gizmos' event will feature a range of stands and stalls exhibiting the different types of equipment, aids, apps and technology supporting independence that can help people stay safe in their own home and give carers peace of mind.
Drop in and see what's available, and try out some of the innovative gadgets.
There are also three presentations available to watch throughout the day:
From Poundland to Broadband – Jim Ellam (Staffordshire County Council)
Having your say on gadgets and gizmos – Nikki Holliday (Coventry University)
Technology for younger disabled people – Paul Doyle (Hereward College)
The event is taking place onTuesday 8th July at the Council House in Coventry, from 9:30am until 2:30pm.
You can book your (free) place at: www.gadgets.eventbrite.co.uk
The Council House is located on the corner of Earl Street, just down from the Cathedral; the closest car park is on Salt Lane, CV1 2GY (http://www.coventry.gov.uk/directory_record/11434/salt_lane)