On 2 February the International Mobility team (Lorna, Agathe, Tracey, Cori and myself) welcomed 120 exchange and visiting students. The largest nationalities represented were Canadian, American, French, Italian and Singaporean. The smallest number of nationals attending– just to mention a few – were one from Norway, one Fin, one Pole, and one Romanian.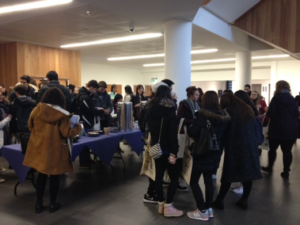 As usual, the day started bright and early for us, and at 8.30am we were welcoming the new students with tea and coffee and their University of Bath induction pack. We then moved to the lecture theatre for the induction presentations. Representatives from Student Services, the Students' Union and the Academic Skills Centre joined us to provide information and guidance, and Student Services organised a game of 'human bingo' to encourage everyone to mingle.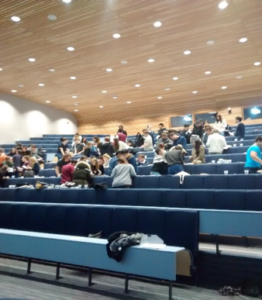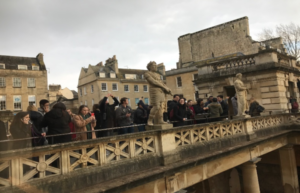 In between the rain, the students were taken on campus tours by the Students' Union Officers. Thankfully, the rain held off until noon when they regrouped for lunch and everyone seemed to have enjoyed the morning's events!
On 10 February the students went on a tour of the historic Roman Baths, and on Thursday 16 February there will be a reception organised by Bath's Exchange and Erasmus Network (BEN) at the Westgate, sponsored by the International Mobility Office.
The exchange and visiting students got involved with events and activities during Refresh week, and on Saturday 11 February, 56 of them joined the international lunch at the Widcombe Baptist Church. It truly was an International Café as 18 different countries were represented at the meal. Despite the freezing conditions 30 students were brave enough to join the Skyline walk afterwards and 14 of them completed the walk. Well done everybody!