Mongolia is a country nestled between Russia and China, 6 and half times bigger than the UK but with a population 21 times smaller. It is the most sparsely populated country in the world (with 45% of the population living in the capital Ulaanbaatar). Mongolia has a rich history including the powerful rule of Genghis Khan, who created the Mongol Empire – the largest contiguous empire in history. But how much do you know about Mongolia in the present day? Have you been there? Do you know anyone who has? It seems somewhat a forgotten place, but recent activity from the University of Bath's department of Mathematics aims to change that.
SAMBa co-director, Andreas Kyprianou has a long-standing relationship with Mongolia and now this is bearing fruit in terms of building a research base for the future. This relationship is growing even further and as that will have an impact on my job managing the SAMBa centre for doctoral training, and may even mean I get to visit Mongolia someday, I wanted to find out from Andreas how it all started and how he sees things developing in the future.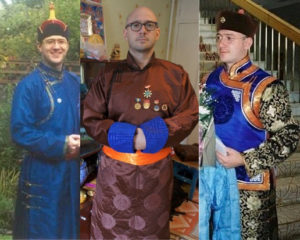 Tell us a bit about yourself and your academic career.
I did my undergraduate studies in Oxford and moved to Sheffield for a PhD, graduating in 1996. After a brief stint as a temporary lecturer at the London School of Economics, I went to work for Shell as a Mathematician in their research laboratories in Rijswijk, The Netherlands. However, Shell was not for me so I left after about a year and a half, finding my way back to academia in late 1998.
After a short stint at the University of Edinburgh I was offered a five-year research fellowship back in the Netherlands, at Utrecht. A growing family brought me back to the UK in 2005 to Readerships at Heriot-Watt University, and then the University of Bath in 2006. I became a Professor in 2008.
Moving to Bath was a massive career boost. The probability group was in excellent shape and ready to grow. I enjoyed very much the aspirations of the Department and the University. We founded Prob-L@B (Probability Laboratory at Bath) in 2007, which has more than doubled in size in the last 10 years with a strong focus on doctoral and postdoctoral research infrastructure. This experience led me to taking up a role in bidding for the EPSRC funded CDT SAMBa. This was founded in 2014, and I now co-direct the centre.
When did you first travel to Mongolia? What made you decide to go?
I first went to Mongolia in 1998 after leaving Shell. Although things turned out well career wise, at that time it was unclear what lay beyond my resignation that summer. I recall handing in my security pass at Shell and going straight to the airport, from where I flew to China - not quite sure what would happen next! I travelled in China for a short while, but when I found that it was possible to catch a train to Ulaanbaatar from Beijing, nothing could stop me getting on that train. I still have memories of being a lone traveller on the night train to Ulaanbaatar and waking up at 6 a.m. to the wonder of seeing the Gobi Desert with wild camels running along the side of the track. At the same time, I was scared at what I would find in Ulaanbaatar. I knew nothing about this country and its people, beyond that it had undergone quite significant economic and social collapse since the fall of communism in 1990. However, from the minute I stepped off the train, I fell in love with Mongolia and I ended up staying quite a lot longer than expected.

How did your relationship with Mongolia develop over the years?
I have been married to a Mongolian for 16 years. I met her on the steps of the central post office in Ulaanbaatar the day before I left Mongolia that first time and now, many years later, we live happily with our three daughters in Bath. Because of this, Mongolia has become a big part of my life. Over the last 20 years, I have been back to Mongolia many times and have witnessed dramatic social and economic changes, both for my own extended family and also the Mongolian nation as a whole.
When did you first start working with the maths department at the National University of Mongolia (NUM)?
It was through my niece, who studied Mathematics and Economics at NUM. I visited her a few years ago, when she was in the middle of her masters' studies, and she asked me to come and give some lectures and meet her teachers. It was then that I met several academics at the Department of Mathematics, including Tsogzolmaa Saizmaa (or Tsoogii). She described the plight of Mongolian mathematics to me. It was an impressive story and I learnt of the solid foundations of the mathematical community of Mongolia, supported by the old Soviet system, with good connections to Novosibirsk and Moscow. However, following the fall of communism, there was a "gap" in the continuum of expertise that now needs rebuilding. Having seen with my own eyes the difficulties that Mongolia has experienced, I quickly agreed to help Tsoogii and her colleagues to somehow put Mongolian mathematics back on the map.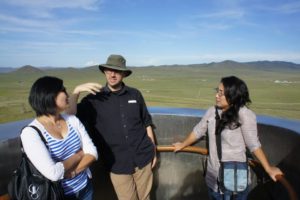 So what did you do?
Together with a group of enthusiastic colleagues, both from Mongolia and other countries, I organised an enormous workshop on stochastic processes and applications. Although I met Tsoogii in 2012, it took until 2015 to get the necessary funding in place and to build the organisation necessary to hold such a large event. One of the central aims was to provide a panorama of modern topics in probability theory for the local audience. But the most beneficial and lasting outcome was the opportunity to create personal contacts between young Mongolians and the global community. We chose the theme of probability not just because both Tsoogii and I share an interest in this field of mathematics but also because NUM has a history of work in probability theory that dates back to the origins of the department in the 1940s. We raised nearly 60K Euros for the workshop and it was attended by around 120 individuals, the majority of which were students, from 20 countries.
Tsoogii is joining SAMBa on a Schlumberger Foundation fellowship in 2016, can you describe how that came about?
Tsoogii was a top student and, when graduating from her Masters some years ago, she was very keen to pursue a PhD in probability theory. This was at a time that Mongolia was going through significant economic difficulties and opportunities in Mongolia were few and far between. At this time, her husband was offered a scholarship to study for a PhD in Korea and she went with him. Unfortunately, she was not able to get a scholarship to do a PhD in Mathematics in Korea but, not wanting to waste her time there, she accepted a scholarship to do a PhD in computing science alongside her husband. When they returned to Mongolia, Tsoogii took up a position in the Department of Mathematics which she has held since 2010. However, her dream of pursuing research in probability theory remained. Hosting the SAMBa Centre for Doctoral Training meant that we could give Tsoogii the opportunity to pursue a PhD in this field here in Bath. However, funding students from outside of the EU to undertake a PhD is not easy. Luckily we discovered the Schlumberger Faculty for the Future fellowship scheme which supports women from developing countries to undertake a PhD abroad with the aim that they return to their home countries to build up research groups. This was an absolutely perfect fit for Tsoogii! Sure enough, from a competitive field of over 1000 applicants, she was one of 49 fellows awarded funding. This means that Tsoogii can now address both her personal ambitions; to get a PhD in probability theory and to ensure the continuation of probability theory in Mongolia. We are super excited about welcoming her to SAMBa in September and look forward to helping her to realise these goals.
What have you enjoyed about working with NUM?
Mongolia is a very remote country. Nonetheless, there is a generation of younger Mongolian mathematicians who are very aware of developments in the rest of the world and don't want to miss out. It's often easy to forget how privileged we are in the West, and the opportunities we take for granted so it is great to be able to share some of those opportunities with researchers at NUM. It's wonderful to support young people who are prepared to work really hard to achieve their goals.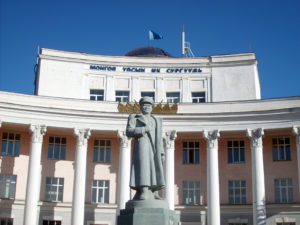 How do you see Mongolian mathematics growing in the future?
Globalisation is generally accepted as a good thing for scientific research and Mongolia provides an ideal example of a country that could benefit significantly from increased connectivity, building on the opportunities afforded by the internet and social media. I believe that Mongolian mathematicians can form closer ties with their counterparts around the world, and take advantage of the many opportunities that exist in terms of doctoral and postdoctoral training. Tsoogii returning to Mongolia with a SAMBa PhD should have real impact in helping to deliver this.
There are many research opportunities in Mongolia that align with our research agenda in Bath and more widely in the UK. As with many countries and institutions, Mongolians are increasingly finding that they have an abundance of data which could be used to answer substantive questions, and inform policy decisions, across a number of fields. The foundation for interaction is now established and I am now working jointly with SAMBa and the Bath Institute for Mathematical Innovation (IMI) to initiate a number of collaborative projects.
The director of the IMI, Jonathan Dawes, has recently visited Mongolia and met researchers at NUM. Since his visit, Jonathan and I have worked closely with Gavin Shaddick (deputy director of IMI and co-director of SAMBa) to identify some very clearly defined projects in data science and statistics, focusing on air pollution, healthcare, agriculture and mining. These projects ensure there will be a building of Mongolian research capacity and will enable growing confidence in manipulating big data. They will provide a springboard to working collaboratively with Mongolian mathematicians and scientists, whilst developing a wider programme of future research and lasting collaboration. I hope that in the future we will see the delivery of real life impact on local communities from these interactions.
What are your favourite things about Mongolia?
The people, fermented horse milk, and eating dumplings in small little cafes; preferably all three combined.
Tell us something we probably don't know about Mongolia.
Mongolia sent a man into space in 1981. Jügderdemidiin Gürragchaa spent a total of 7 days, 20 hours and 42 minutes in space on the Soviet Salyut 6 space station.