I was lucky enough to be invited to help at a STEM day at Blackfriars School in Newcastle-under-Lyme. Blackfriars is a school for children between 10 and 16 years old with wide range of special needs, including physical/mental disabilities, learning difficulties, and sight, hearing, and speech impairments.
The day was supported by many different professions who came to the school to share a little bit about the kind of careers that were available to someone who has studied STEM subjects at school. There were doctors, vets, construction workers and accountants who ran workshops and talks with the children, aimed at giving them a broader perspective of how the world works and the kind of jobs that people do.
I was there to represent engineering, and mostly to talk about my recent placement with Kellogg's to help the children think about where all the food in the supermarket comes from and how it gets there, because most people don't give it a second thought! I ran a variety of workshops and discussion groups depending on the ability and experience of the groups that I was with.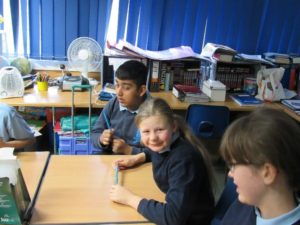 My first couple of classes were of a lower ability, so my main aim was to help them to understand what an engineer is and how they fit in to the world around us. I started with a picture quiz, asking the children to tell me whether a certain person 'looked like an engineer'. They were surprised that someone sitting at a computer (programming) could be an engineer, and equally that an engineer could be wearing a lab coat rather than a hard hat! We then went on to make straw rockets which they thought was great fun. We made rockets with different nose shapes and talked a bit about aerodynamics, and then had a competition to see who's could go furthest. Unsurprisingly they got very overexcited and we had rockets flying in all directions, but it was great to see them engaging with engineering and thinking about how these ideas might be useful in other things closer to home!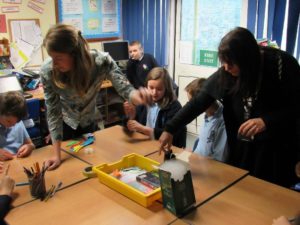 My next group were higher ability, and some of them had done the odd STEM GCSE. They knew a bit more about what an engineer was (so faired pretty well with the quiz!), but had no idea how food was made. I showed them a great video which I got from my placement about the entire Pringles process, and then we discussed each stage of the production line and the big range of engineering disciplines that would be involved with something like that. To be honest I think their favourite part was getting to eat the Pringles afterwards, but they did say they were excited to tell their friends that they knew how they were made! We then talked about some of the other big challenges facing other types of engineers around the world (clean water, sustainable building materials, electricity generation etc.) to really try and show that engineers can be anything!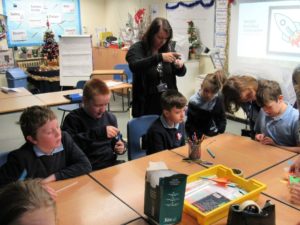 My final couple of groups were girls only, and I was warned that they would be difficult to engage so I was almost expecting it when one of the girls sat down, saw the word 'engineering' on the board, and said for everyone to hear: "Oh great, I hate engineering". I knew this was going to be a tough audience! I started by asking her why she had taken such a dislike to the subject, and she replied "My dad calls himself an engineer when he's fixing the car and I don't want to do that". Fair enough, I said, but let's think about all the other things that engineering could be. The group significantly perked up at the sight of Pringles, and again when we were discussing how engineers are more like superheroes than car mechanics – we make the impossible, possible!
All in all, it was a fantastic day to be a part of and the children were really inspiring – engaged, enthusiastic, and armed with plenty of questions! I think it achieved its aim of broadening both the minds and the opportunities of the pupils, and I could already see them starting to look at the world in a different way which was so rewarding. My first taste of outreach was definitely a challenge but I'm hoping it won't be my last!
Amy Ross
MEng (hons) Chemical Engineering