In this joint CASP and Centre for Death and Society (CDAS) blog Dr Chao Fang CDAS member and  Research Fellow in the Institute of Education at the University College London, explores his reactions to his grandmother's death. 
I suppose I have long been preparing for this – the loss of a loved one - as a bereavement researcher. My grandmother passed away on 24th July 2022 at the age of 93, after two turbulent weeks of lung infection, then multi-organ failure and ultimately the terminus of all ageing. It is a good death (at least in a traditional way), she had a long and happy life. However, when the sorrow kicks in, the feelings are indeed painful and somewhat foreign in relation to the numbness and surrealness of loss.
My grandmother has always been a strong person. Born as the eldest of eight children, she lived through the Sino-Japan war and then led the whole family to survive and thrive through both difficult and pleasant times. For a long time, she was the decision-maker, the negotiator and the spearhead for her whole family of over 20 people. Not only that, to me, she was also a caring grandmother and a safe haven, someone that I could always rely on. I remember vividly our trip to the first-ever supermarket opened in my hometown back in the 90s where we both marvelled at the produce. I also remember the summer I spent with her whilst I was aged 9, whilst my mother was receiving cancer treatments in a neighbouring city. What remains vivid was her holding my hand and walking across town to her home – her hand was big or at least mine felt small in hers, it was warm, and I felt safe and loved. I am glad I have these memories and it is reassuring that they will be with me for the remainder of my life.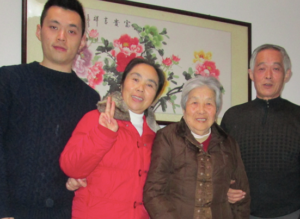 To some extent, my grandmother's passing was unexpected despite her very old age and her deteriorating health in recent years. She suddenly became ill two weeks before her death, we originally anticipated a smooth recovery in hospital and a return to her usual perky self. Unfortunately, the lung infection became a trigger for further damage and she passed away in a painful and highly medicalised process. When I was informed the death by my parents (via a video call), what I felt was, to be honest, nothing, just the desire to comfort my parents. The realisation of loss and the confrontation of sorrow then came into focus gradually, particularly when I saw an older person on the street and began immediately to recollect things related to my grandmother. Regardless of having listened extensively to bereaved people as a researcher in past seven years, the feelings of grief have never been so close to me. The challenge to articulate the nuanced pain of grief and the fluctuation of facing and being distracted from loss are so powerful that I still cannot fully comprehend (maybe I never will) the meaning and impact of loss.
Losing a loved one can indeed be disruptive and disabling. Over twenty-five years ago, Walter (1996) drew upon his own grief to highlight the benefits of talking about the deceased and constructing "a durable biography that enables the living to integrate the memory of the dead into their ongoing lives" (p.7). While feeling the pressing need to talk about my grandmother and my grief, the unique challenge facing me as an expat has been and remains my distance from home and the collective support offered within the family. Due to strict quarantine rules in China, it was impossible for me to return the country to say goodbye to my grandmother. Whilst other family members have the 'luxury' to accompany my grandmother at her deathbed, to attend the funeral and also to interact with others, who know my grandmother, to co-process their grief; I have felt overlooked and left alone in this process. I am not blaming my family for this as they are already facing the stress of dealing with their own grief and other practicalities (such as arranging the funeral and death registration). Instead, my experience has highlighted the challenges of grieving alone (as faced by many bereaved people during the COVID-19 outbreaks and in other circumstances) and the importance of tackling them.
This distance has led my desire to construct shared narratives about my grandmother on varied platforms with a variety of people. Soon after her death, I shared the loss with my oversea friends who have met and/or known my grandmother. Although she has never travelled abroad, she was fortunate to meet some of my international friends on their trips to China. Despite my friends having only met her for a few days, the conversations with them and the small but precious stories and memories they recalled about my grandmother have been helpful to enable me to further reaffirm her as an engaging and confident person and further understand what I have lost in my life. I have also found meaning in re-assembling the photos and videos I have accumulated of my grandmother over the years (I have successfully converted a family chat group into a space for photo/video sharing). In addition to these, I asked my family members to share with me as much as they felt able of the dying and mourning process, this included photos and videos and conversing more broadly about the day(s).
Whilst it is painful to face the contrast between recorded moments relayed back to me through intermediaries and the reality of death. I personally have felt this important to complete a fuller picture of the journey of my grandmother's life and passing. Beyond the individual level, I am also keen to share my memories about my grandmother in wider social circles to reinforce the meaningfulness of my loss, such as writing this piece. Last but not the least, what is key but may easily forgotten in facing painful loss is to support other vulnerable family members, especially my mother whose life in past 15 years has predominantly been as a full-time caregiver to my grandmother. I have been talking to my mother daily since our loss, showing my understanding and support hoping to help her retain strength to face and deal with the void left by my grandmother's passing.
There are no right or wrong ways to grieve. By sharing my own and still vividly raw experiences of grief here, I am not intending to provide anything educational but just want to raise further the awareness that we should all feel empowered to talk about loss and more generally grieving in our own way. Below are some of my reflections and I hope they may be useful for others in the future:
1) It is okay to (or not to) talk about the deceased with others. If we feel the need to talk, it might be useful to let others know our needs.
2) It may be particularly challenging to grieve alone or in situations other than the traditional family-centred environments. It might be worth reflecting on and drawing upon the varied personal and creative resources that are available to you, such as photos, videos etc..
3) In many ways, we lack a 'grief literacy' in contemporary society, a nuanced understanding about how to be knowledgeable and supportive in facing the grief of ourselves and others. The significance of developing such a literacy lies not only at a time of facing loss but also in everyday life.
4) It is worth acknowledging grief is often not an individual matter but also a family/collective experience. While focusing on our own grief, please remember to support others affected.
The loss of my grandmother marks a new era for my family and myself, which means my parents have become the oldest people in the family. To me, they may be those whom I will lose (hopefully only in the distant future). I am sure there will be more things to learn and to reflect upon till my next confrontation with loss.
This experience has for me reiterated the reason many of us do what we do and the power that our research can have. I hope that as a field we can continue to strive to understand the complex and nuanced experiences of grief and bereavement, fostering a safe and compassionate world in which people can feel supported and heard.
Reference:
Walter, Tony. (1996) A new model of grief: Bereavement and biography. Mortality, 1:1, 7-25, DOI: 10.1080/713685822