Our community wants change. In last year's Climate Action Survey, over 94% of respondents thought change was required in our approach to food on campus. 74% of students and 71% of staff at that time stated that ruminant meat (for example, beef and lamb) should be replaced on campus and would be willing to change their diet to reduce their environmental impact.
And in this year's Climate Action Survey, 55% of students and 45% of staff stated that they consume zero ruminant meat per week, potentially indicating that they are aware of the impact their food choices have on the environment and are willing to make changes to reduce their impact.
Following the results of the 2022 survey, the University was considering implementing a Sustainable Food Commitment on campus. This commitment has since been made a reality and results from this year's survey indicate that both students and staff have already seen an impact since its launch in September 2022.
Our Sustainable Food Commitment (SFC) is focused on reducing the environmental and social impact of food on campus. The commitment aims to make it easier for individuals to make sustainable food choices and reduce the carbon emissions associated with food purchases. 
The commitment includes initiatives such as reducing food waste, promoting local and seasonal produce and improving food sourcing practices. Results from this year's Climate Action Survey show that students are more aware of the SFC, compared with staff (68% versus 51%). But in what areas is the community seeing the biggest impact?
Reducing packaging
55% of students and 44% of staff have noticed an impact in this area

 

23% of students and 16% of staff have chosen food/drink differently as a result of changes in this area

 
Celebrating the good: Last year it was announced that catering outlets across campus would no longer be using disposable cups.
Food waste
47% of students and 28% of staff have noticed an impact in this area

 

19% of students and 8% of staff have chosen food/drink differently as a result of changes in this area

 
Celebrating the good: In an effort to reduce food waste on campus, a number of initiatives have been implemented this year including Too Good to Go and a community fridge. The successful Munch Box scheme has also been extended to cover more outlets.
Meat consumption
38% of students and 32% of staff have noticed an impact in this area

 

14% of students and 11% of staff have chosen food/drink differently as a result of changes in this area
Celebrating the good: Parade is now dedicated to serving vegetarian and vegan food, and ruminant meat options are being swapped for alternatives in all campus food outlets. The purchasing of beef in campus food outlets has dropped by 96% and lamb by 99%.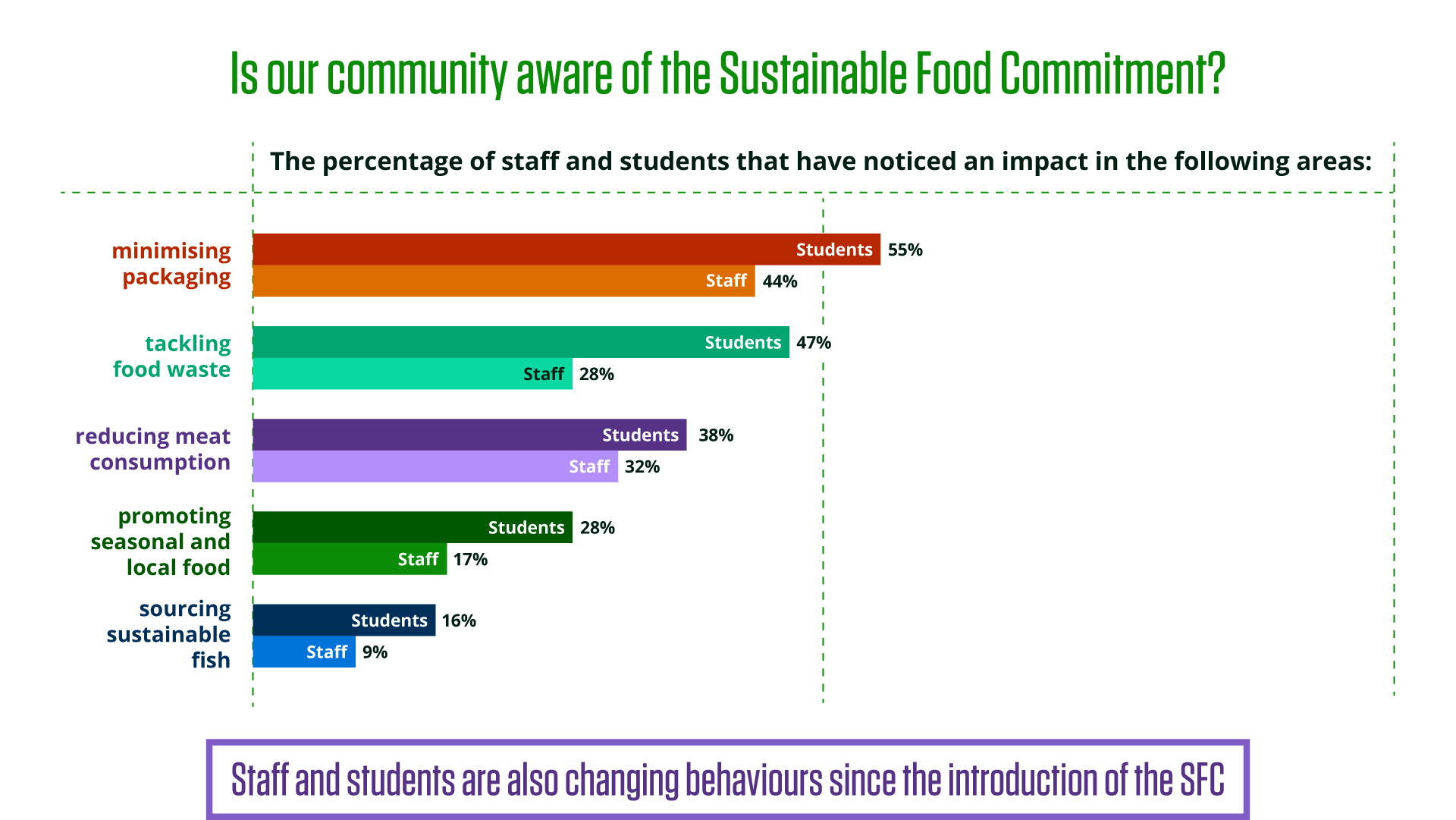 These figures show that our community is not only aware of the SFC, but that its introduction has started to impact individual behaviour to make other choices. Although previous evidence has shown that our community has expressed a preference for more sustainable food options, there are barriers to actually making these changes. For example, according to this year's survey, the main barrier for students to take action against climate change is financial. As the cost of more sustainable foods can sometimes be higher than conventionally-grown food, individuals will need to consider this when making any dietary changes. The University is aware of this financial barrier; following student/staff feedback, there is now no charge for oat and soya milk in hot drinks across all campus hospitality outlets.
"It's fantastic to see the impact the SFC is already having – we're adapting our offering, and this is influencing individual behaviours. We want to make it easy for our community to choose climate-friendly meals on campus, and we're responding to student and staff demand to enable this. We are now excited about working on the next stage of this journey"

- Kevin McCormick, Head of Campus Services Commercial Operations
So how can the University encourage community behaviour changes, while also continuing to acknowledge these barriers?
The future is on your plate: Encouraging behaviour changes
As a higher education leader, the University plays an important role in encouraging behaviour change when it comes to people's diets and food choices, specifically in relation to climate change and the environmental emergency. Since the introduction of the SFC, the University has been supporting individuals to take more profound action as a community.  
To encourage such behaviour change, we can:
Develop the curriculum

: We can incorporate education on the environmental impact of food and the benefits of sustainable food systems into our curricula. This could involve creating courses and programmes that focus on sustainable food systems, as well as integrating sustainability into existing courses.

Conduct research and innovation

: We can conduct research on the environmental impact of food and develop new sustainable food production and consumption practices. This can involve studying the impact of different food production and consumption systems, developing new plant-based protein sources and exploring ways to reduce food waste. The University is leading the way in this area, as researchers are

culturing meat for sustainable nutrition

and

developing a sustainable alternative to palm oil

.

 

Improve campus food systems

: We can continue to improve the sustainability of our own food systems, by sourcing more locally-produced, certified sustainable and plant-based foods. Progress has already been made in this area, with the opportunity for further headway in the coming years. We can also continue to reduce food waste and packaging, all as part of the SFC.

 

Change policy

: Implementing policies that encourage sustainable food choices, such as requiring all campus food outlets to offer vegetarian or vegan options, could have both positive and negative implications. Doing so could contribute to a more sustainable food system by reducing the carbon footprint of food production and consumption. However, this could limit consumer choice, affect pricing and also impact supply chains. As with any policy change discussion, both sides should be carefully considered before making any decisions.

 
The contribution of the food system to climate change is substantial but individuals can lower their carbon emissions by making more conscious dietary choices. You don't have to completely eliminate meat and dairy from your diet; start small and shift towards a more plant-based diet. 
By making simple changes such as reducing the consumption of animal products, increasing the intake of fresh produce and minimising food waste, you can significantly decrease your personal greenhouse gas emissions. 
This is the third in a series of blog posts highlighting the results from this year's survey. In the next blog post, we will be exploring the role of education in fighting climate change and looking at how equipped our students and graduates are for a rapidly changing world.
---
This survey was conducted in November 2022.

This survey was completed by 4764 respondents, representing 41% of University staff and 14% of students.

This survey was commissioned by the Climate Action team with methodology devised and results analysed by Professor Lorraine Whitmarsh, Dr Paul Haggar and Kaloyan Mitev.

Members of the University of Bath community can access the collated survey data.

If you have any questions about this survey, please contact climateaction@bath.ac.uk.