Author: Alison Ukleja, Placements Manager, writes about our recent Engineering Placement Fair -
---
In November we welcomed over 70 companies to campus for our Placement Fair. Our industrial partners got the opportunity to promote their businesses and talk with our students about placements, summer jobs and graduate roles. We aimed to promote engineering businesses on campus that may not be household names and introduce students to companies they may not have heard of.
Although our focus is on 12 month placements, we wanted to expand the scope and appeal of the Fair to STEM undergraduates, finalists and postgraduates as well. With over 1200 students through the door (mostly engineers, but also some Maths and Physics students) we felt we achieved what we hoped to do.
Showcasing a variety of technology
Martin Baker Aircraft Company brought a jet pilot ejector seat, Saietta an electric motorcycle, Honeywell Aerospace a cooling system, while Anthony Best Dynamics demonstrated their steering robot for driverless cars. Bryden Wood drew the crowds giving a virtual reality demonstration where students toured construction projects in a virtual world. Most companies were able to show a range of technology and products to engage students' interest including Herman Miller from Bath displaying a range of their innovative ergonomic chairs. Two popular stands were Mondelez with a supply of chocolate that lasted all day and Heineken handed out beer and cider prizes in their quiz.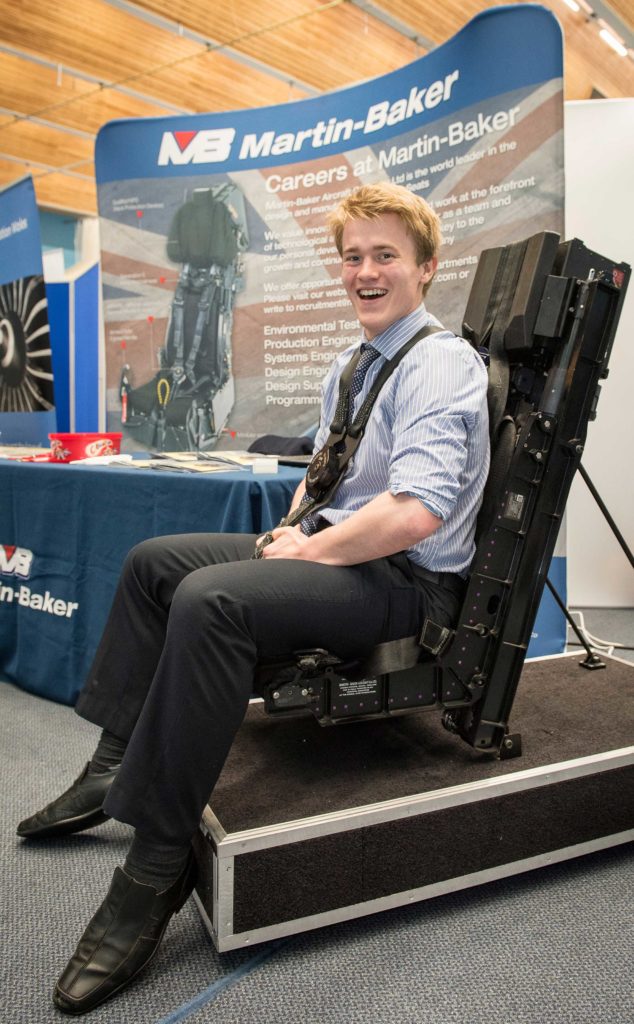 The Fair was also a great opportunity for employers to discover the impressive achievements of our student projects. Team Bath Racing, Team Bath Racing Electiric, Bath Zero Emissions Motorcycles, Team Bath Drones and Bath Underwater Racing Submarine Team all exhibited their work enabling the teams to make new contacts for technical support or sponsorship. Our Drone team attracted attention from defence company Harris Corporation, with their expertise in release mechanisms, opening up new possibilities to drop things!
A great day
The whole event demonstrated real energy and enthusiasm for engineering, making for a successful day of recruitment, networking and collaboration. Our industrial partners fedback how brilliant it was to talk with such motivated future engineers. I'd like to thank my team for their hard work in organising the event and look forward to doing it all again in two years' time.