Author: Chun Wong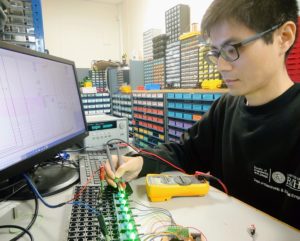 My day starts with two important tasks; checking the train schedule and checking the weather. As I live 10 miles from the University and don't drive, my trip to work is long and winding, even when the trains and weather are kind!
But the ten miles I commute is nothing compared with the distance I have travelled to come here. I grew up, studied, worked and got married in Hong Kong, some 5000 miles away! The city means a lot to me, especially the Hong Kong Polytechnic University where I studied Electronic Engineering and Computing, before working there for over 13 years.
I have been living in the UK for almost 2 years now – how time flies! Since June, I have been working in the department of Electronic and Electrical Engineering and I'm so thankful for the opportunity to be part of the technical team.
I enjoy working with students as well as academic colleagues on technical issues and using my electronics knowledge and skills to help solve problems, such as finding suitable components for a project or advising on electronic assembly. More importantly, being a technician here means I have the opportunity to explore new ideas and learn new techniques from colleagues and, working in such a diverse atmosphere, there is always something happening to give me inspiration.