Midas Construction Limited is working on Phase 3 of the 1 West refurbishment with the project due to complete in August 2015.
Potential disturbance

Noise from the works will be unavoidable, however we hope the traffic light system above will assist.  It is not anticipated that the construction activity will create any more noise than the current ambient noise levels with the exception of the roof decking. Please also note that the dates above are a guide and likely to change as a result of unforeseen changes and site issues.
We do not anticipate any major interface issues with the current use of 1West, Library and 3West however there will be times when works at the junctions with these buildings will require alterations and additional hoarding to allow the tie in to be completed. These will be timetabled and managed in conjunction with the University Estates team. Interface works will be segregated at all times ensuring that the safety of the building user is paramount at all times.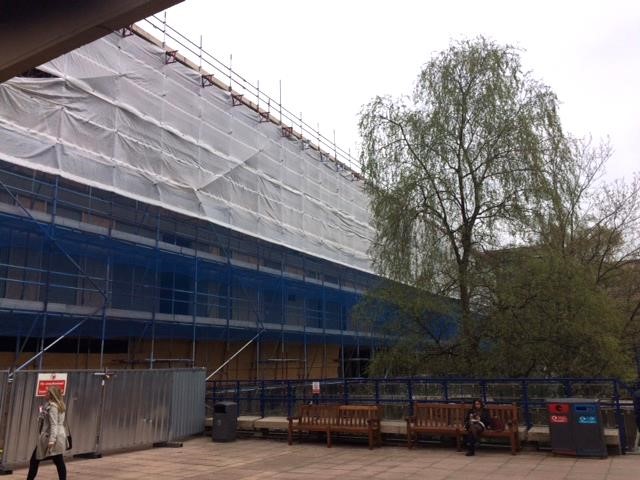 Scaffold and temporary roof
As can be seen the building is currently enclosed in a scaffold and temporary roof structure to allow the construction works to continue in the dry whilst the roof and windows have been removed. As works proceed these will be progressively removed to expose the new building. The site will be accessed from the level 1 underdeck to minimise contractor interaction with the student population. Site offices are in Brendon Court car park.
Safety will always be paramount to all our operations on site.
Pedestrian movement at site entrance
Site delivery numbers will now increase with the refurbishment of the now empty building shell, all vehicle movements will be strictly managed by Midas traffic marshal and by timing of deliveries around peak pedestrian movements times. Please take direction as required at site entrance gates from Traffic Marshals for your own safety.
General queries should be issued to estates-helpdesk@bath.ac.uk.
Please also see the campus investments webpages.