As another year starts and I reflect on all that happened last year I am struck by the dedication of all colleagues committed to delivering research aligned to the University's key strategy areas of sustainability, digital and health.
Although I'm new to Bath, I am already aware of how community is at the heart of this institution. Your contribution to our mission is key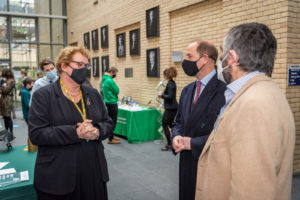 and greatly appreciated across the organisation. If you are in any doubt about this, I would encourage you to have a look at just a few of the photographs of graduation, prize-giving ceremonies and, more recently, a visit from the Chancellor HRH The Earl of Wessex Prince Edward.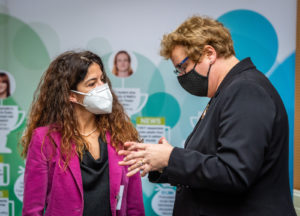 In joining Bath, I was particularly impressed with some of our recent research funding successes, such as : £7m Wellcome Trust funding for GW4 to launch a new PhD programme for health professionals, £5m funding from UKRI awarded to Professor Linda Newnes (Mechanical Engineering) to set up a People-Led Digitalisation Center, £20m award to Centre for Industrial Decarbonisation Research and Innovation (IDRIC) that includes our very own Center for Sustainable Technologies led by with Prof Marcelle McManus (Mechanical Engineering), a £9m EPSRC grant to Professor Davide Mattia (Chemical Engineering) to develop a new chemical processing technology that could save hundreds of millions of tonnes of CO2 emissions, a £3.5m EPSRC programme grant award led by Professor Chris Budd (Mathematical Sciences) to increase trust and unleash innovation in Artificial Intelligence, a £1.1m UKRI Future Leadership Fellowship to study dignity in supply-chain management awarded to Dr Vivek Soundararajan (School of Management) and a £5m Research England award to an Innovation Centre for Applied Sustainable Technologies, led by Professor Matthew Davidson (Chemistry).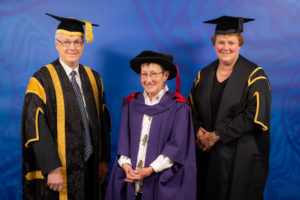 .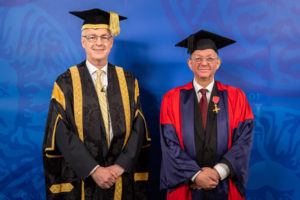 I was lucky to start at Bath during graduation and was truly honoured to award two Vice-Chancellor's Research Medals to Professor Linda Newnes and to Professor Chris Budd OBE for their excellence and contributions to the fields of mechanical engineering and industrial mathematics respectively, as well as for their commitment to inspiring others into STEM fields.
I was also delighted to hear that Dr Alexander O'Malley (Chemistry) was awarded the prestigious Sir John Meurig Thomas Catalysis Medal, Miss Tina Kimfumu (SoM) won a Woman of the Year Tech Award and Professor Yvonne Jewkes (SPS) was awarded the MRS President's Medal 2021. The new year greeted us with the news of Professor Lorraine Whitmarsh being awarded an MBE for her contributions to behaviour change and public engagement towards more sustainable futures. A few days ago we learnt of Dr Anneke Leuben (MC2) appointment as Chair of EPSRC's Capital Infrastructure (Equipment) Strategic Advisory Team.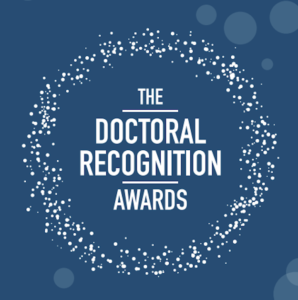 Our Doctoral Awards recognised the efforts of both students and staff within the doctoral community. The Godfrey and Sue Hall Postgraduate Research Prize, awarded to Mr Bas Lodewijks, highlighted once again the high level of quality research being carried out. It was also excellent to see some PhD students being recognised externally with the 2021 MRC Max Perutz Science Writing Award to Ms Vicky Bennett (B&B) and an invitation to attend the Heidelberg Laureate Foundation Forum to Mr Tosin Babsola (Maths).
On a different note we also celebrated the 1st University LEAF (Laboratory Efficiency accreditation framework) accreditation. This is a real testimony to the work we have been developing as part of our Climate Action Framework.
2021 showed the strength and resilience of Bath's research with some really good successes to celebrate in challenging times. In 2022, I am looking forward to working with all of you to deliver our research strategy as we continue to grow our research strengths to drive research quality, achievement and impact at international levels.
Best wishes, Sarah