As we celebrate the International Day of Women & Girls in Science I am proud to host a series of interviews with inspiring female leaders who are part of our Bath community. #February11 is for everyone and an opportunity to recognise the role of women in science as agents of change. I look forward to also celebrating International Men's Day in November!

Please describe a typical week in your working life.
It varies so much! My time is split between research, teaching and management. This week is the inter-semester break, so I am getting ready for the start of the Semester (I teach first-year fluid mechanics), while finishing off a proposal for some research (measuring turbulence in the sea). I'm also taking part in a week-long workshop with some maths PhD students where we're looking into how maths could be used to solve some of the problems facing the tidal power industry. I really enjoy the variety in my job – I can spend the morning in a lecture theatre explaining how a wing works and then the afternoon in the wind tunnel actually measuring the flow over a wing.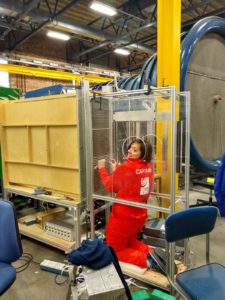 What are the biggest challenges your area of work is facing right now?
Net Zero hangs over everything we do as mechanical engineers. Even a few years ago, it was possible to work on mechanical engineering problems without considering the sustainability aspect, but now that's built into all our research. As a colleague recently put it, in 2050 it's going to be illegal to use steel unless we work out a way of making it without emitting carbon. That's a pretty big challenge that permeates through everything we do.
A few months ago, I started a network (Bath Beacon) of researchers from across the University who are interested in working together on offshore renewable power (wind, wave and tidal). I'm hoping this will give us lots of new ideas for how we can help to make Net Zero a reality.
And what are the big
opportun
ities?
The challenge of getting to net zero carbon emissions means we need a complete change in the way we weigh up different options in design, and it's opening up loads of new areas of research that were previously shelved as too difficult or not interesting enough. This means that new ideas are needed and new ways of thinking and so there is a chance to make a big difference in sectors that a few years ago looked like they would never change.
As a leader how do you get the best out of your staff?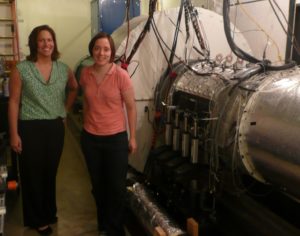 In research, we're often trying to do things that nobody has done before, and so there's inevitably some uncertainty as to how to do things and whether what we're doing will work. I try to normalise that sense of uncertainty and to make sure people feel able to question my plans and suggest alternatives. This is especially important in teams where I'm an expert in one aspect but the people I'm working with may know far more about another part of the project.
How do you hope your colleagues would describe you?
I hope they'd see me as someone who tries to change things for the better and who is passionate about making sure that all our students succeed, whatever their background.
Highlights of your career so far?
I did my PhD with Rolls-Royce on how aircraft engines stall. Some of the work from my PhD went into a paper that won the American Society of Mechanical Engineers' Gas Turbine Award, which is the top prize in the field and has been given out every year since 1963. I didn't realise at the time, but I was the first woman to win that prize. Over the past ten years, I've enjoyed applying my expertise from aerospace to a very different field: tidal power generation. They may seem like very different fields, but the physics is the same – a fluid is going through some spinning blades and power is being added to or removed from the flow.
I
f you could give your younger self some career advice what would it
be
?
Keep doing what you enjoy, and don't assume that everyone else knows more than you.
How do you relax away from work?
I like getting out and enjoying the countryside around Bath – I moved here from Cambridge, so the hills are a nice change (except when I'm cycling, then they are hard work!) I also have a cat, KJ (short for Katherine Johnson), who keeps me entertained.
What do you believe is special about the University of Bath?
I've been here for 3 years now, and I keep meeting people from across the University who are keen to discuss research and see how we can collaborate. Engineering is increasingly multi-disciplinary, and I think Bath is really good at getting people to work together across subjects on the big problems facing the world.
Please describe a typical week in your working life.
During termtime, a typical week is scrambling around trying to complete the short-term aspects of my job (teaching, marking, administration, responding to e-mails) while trying to make the long-term aspects (research) stay on the to-do list. I'm on maternity leave at the moment, but last year I managed to spend some blocks of time in the lab building a microscope and I gave myself a relaxing treat by spending ~2 weeks writing computer code for a background project I was scoping out. Out of term, the theory is that I can spend my time thinking about research and looking after my research students, but I don't think it's worked out like that yet. I'm not sure I've got the balance right yet!
What are the biggest challenges your area of work is facing right now?
So many challenges – including coming back from maternity leave two years into a global pandemic in a world where childcare or in person schooling can be withdrawn with minimal notice, but the day job carries on. There is data that the pandemic has exacerbated existing inequalities in science (eg around gender or caring responsibilities) and there has also been a particular impact on staff employed on fixed term contracts (most laboratory researchers). We are all judged on our outputs, but poor output for a researcher can easily translate into poor employment prospects when the contract comes to an end. Funding competitions and hiring are incredibly competitive – particularly in the biological sciences – and this can essentially end a career. As academics, our challenge is to progress our own research, while also keeping the careers of individual researchers afloat and working to ensure that the structures we use to measure success at all levels are flexible enough to resist entrenching inequality even further.
And what are the big opportunities?
More and more people are becoming interested in protein dynamics – which parts of proteins are structurally stable, which parts move, and how fast or slow their motion is (my scientific niche). This means that more tools are being developed, and there are more people to talk to. The big opportunity is to take these tools (which are pre-commercialisation and developed mainly by researchers from the physical sciences) and apply them to research questions with the eyes of a biologist or the eyes of an applied physical scientist. Molecular shape and interactions underpin much of biology and these are studied routinely. However, time is equally important, and protein dynamics are key to understanding how large proteins are regulated, how they carry out their biological function, and also how we can interrupt that function eg with small molecule drugs.
As a leader how do you get the best out of your staff? 
As a group leader my staff are researchers and research students and I'm lucky that they are motivated because they have actively chosen to work in my group. Beyond this, I think it starts with a combination of me knowing what we are aiming to do within the project and listening. I provide technical assistance, but also I try to align what I am asking of someone with their own ambitions. Occasionally this can take some effort – a long time ago I worked in sales and I think there are quite a few parallels.
How do you hope your colleagues would describe you?
Inquisitive, creative, technically rigorous and fair.
Highlights of your career so far?
My first postdoc (with Richard Bayliss at the Institute of Cancer Research) was what made me fall in love with academic research. Scientifically, I really enjoyed having a research fellowship at Imperial College London – there was structured support within the programme, I discovered the joy of having the freedom to choose the direction in which the research in my group went, and we published some of the best science of my career. (It was also really stressful as it was fixed term and I had no career security, but that's a different conversation…)
If you could give your younger self some career advice what would it be?
Good teachers are worth their weight in gold (seek them out), but remember that lots of people either can't or forget to teach you what you need to know. You need to be alert to spot when they're messing it up, decide what you need and be prepared to teach yourself.
How do you relax away from work?
Prior to children(!) and prior to Bath, I sang in a chamber choir. Now I probably sleep – although I can tell when I'm relaxed at the weekend because I catch myself spending the afternoon cooking something slightly time-consuming for dinner.
What do you believe is special about the University of Bath? 
I really like the way that the university is small enough to form personal connections with colleagues across different academic departments and professional service teams.
Please describe a typical week in your working life.
There is no typical week for the Faculty of Science Technical Team, but there is always an interesting mix of day-to-day operations and new challenges that come our way. We support and enhance teaching and research, and as part of this provision are responsible for the smooth running of a range of communal and bespoke research facilities.   These research spaces are looked after 365 days per year, come rain or shine, or as has been the case in recent years, a pandemic.   During term-time, our team prepare for and support our practical classes and it was a great to have students back in our teaching laboratories when guidance allowed.  Linked in with research and teaching, we promote and communicate good health and safety practices, and safety is at the front of our minds in all we do.
What are the biggest challenges your area of work is facing right now?
As you can see from above, the support we provide is wide-reaching.  Ensuring technical time is used as effectively as possible to support competing demands across our departments, is one of my top priorities.  An additional challenge is to ensure that the critical contribution made by the Technical Team is recognised at a University level.   The Technician Commitment Initiative focuses on the themes of visibility, recognition, career development and sustainability and is a platform we use to promote the work of all technical staff.
And what are the big opportunities?
I'm currently working on a skills-profile for our team.  Even after working with some people for many years, it's highlighted some lesser known techniques and expertise within the team, that may not be visible from the outside.   Ensuring we make the very best of the technical skills our team has to offer and tying this in with CPD provision, will be a real positive for the team and those we support.
As a leader how do you get the best out of your staff?
I make sure people feel appreciated for the important part they play in the technical and wider University team and always give credit where it's due.   Knowing what is expected of us in terms of our roles is key to people's wellbeing at work, and myself, Ewan Basterfield and Fabienne Pradaux-Caggiano (our Technical Supervisors) work hard to make this a priority.
How do you hope your colleagues would describe you?
Some of the team poke fun at me as I'm always zipping around, but apart from 'busy', I hope they would think of me as someone who gets things done and who has time for them.  It's also important to me that I am seen as someone who both recognises and promotes the valuable work that they do.
Highlights of your career so far?
Looking back on all of the positive changes during my time in FoS keeps me motivated in my current role and it's really the day-to-day wins and humans, rather than the big moments, that have kept me in my current and previous posts.  Seeing people go above and beyond makes me proud to work here.  Interviewing a person and some way down the line thinking 'what a cracking appointment,' is always a great feeling.  I get a great sense of satisfaction when good planning results in a project running smoothly and on-time.  I love having problem to solve and also seeing the big impact small, positive changes can make to operations.   Recently, the way people in our departments embraced regulations and logistics, in order to get research back up and running after the first lockdown, made me appreciate the enthusiasm and drive of the people around me.
If you could give your younger self some career advice what would it be?
That there are lots of different paths you can take, to get where you want to be. There are so many free resources out there for pretty much any subject you're interested in or puzzle you're trying to solve; go for it with the CPD.  There really are other people out there who love H&S like you do!
How do you relax away from work?
I go on adventures with my children and partner, who are my biggest happiness.  I run, swim and attempt to kick box.  After spending time with Chris Vennard on our team, I was inspired to do an entomology course in the lockdown.   I'm interested in classification and like to potter about outdoors, trying to figure out what is what.  Along with Sarah Hunter our H&S Coordinator, I'm learning French.  Merci to Fabienne Pradaux-Caggiano for her patience with this!
What do you believe is special about the University of Bath? 
We're a bit like ants.  We all have our own part to play in the bigger picture and without any one group of staff, things would not go nearly as smoothly!
Please describe a typical week in your working life.
Mmmm a typical week – If I am being honest there is not really a typical week!  Which I like as I enjoy variety.
During a week I tend to do various activities and they range from undergraduate lecturing, supervising undergraduate student projects, managing research grants, discussing ideas with researchers, working with industry to overcome challenges they are facing and paperwork – although usually digital paper work.   I also get the opportunity to visit amazing places and work across the world.
What are the biggest challenges your area of work is facing right now?
The research I undertake is transdisciplinary – where we work with industry and  many disciplines such as; policy, science, management, engineering.   One of the biggest challenges we are facing is to realise the potential of digitalisation and to increase the adoption of digital tools within Manufacturing.  We know that there are amazing digital tools available, however, one of the biggest challenges and opportunity is ensuring these are people-led.  So rather than people equipping the digital tools we need to be equipping the people.  This leads us to amazing opportunities in particular with our industry partners.
And what are the big opportunities?
Working across industry sectors and with diverse disciplines to create a process for the uptake of digital tools that have people at the core – a human centred approach to digitalisation.
As a leader how do you get the best out of your staff?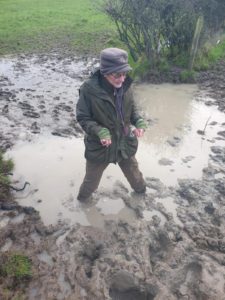 I try to be upfront, honest, supportive and provide opportunities.  I am sure I can improve but ultimately, I aim to be fair and encouraging and more importantly have fun!  Work has to be enjoyable.
How do you hope your colleagues would describe you?
Fair and honest and fun!  Oh and probably a chocoholic.
Highlights of your career so far?
Gaining promotion to become the first female Professor in Mechanical Engineering at Bath. But, the highlights are really the support I get from a great team and seeing PhD students, researchers become even more successful – these highlights never stop.
If you could give your younger self some career advice what would it be?
Good choice choosing Engineering.  This is a career path that opens up so many opportunities - it is so much fun and you will never get bored!
How do you relax away from work?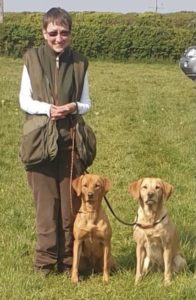 Training, working and doing tests with our dogs.  My husband, Merv and I have four Labradors between us and would never be without a dog again.  They do keep you busy and on your toes!
What do you believe is special about the University of Bath?
When I joined Bath, I went on 'gut' feel – did it feel like a place you would want to work at?  Obviously, the answer was yes.   The answer was yes because Bath has a dynamic that is not easily replicated and often difficult to achieve at sprawling institutions.  The people at the University of Bath have a willingness and ease for working between disciplines, Departments, Schools and Faculties.   I started in my first year here working with Pharmacy and Pharmacology and with the School of Management – this laid the foundations for all the transdisciplinary work that we undertake.  Bath just has that collegiate feel.
P
lease describe a typical week in your working life.
I have a really varied job that is completely different from one week to another.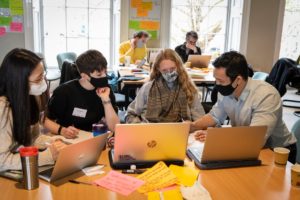 Overseeing the day-to-day operation of SAMBa, the Centre for Doctoral Training in Mathematical Sciences. SAMBa is a huge enterprise with well over 100 current and graduated postgraduates. It requires continual engagement with multiple stakeholders, particularly the postgraduate cohort, to ensure its continued success. This week we have hosted our 15th Integrative Think Tank (back in person, which has been wonderful!), which are our flagship problem formulation workshop.
Developing and delivering multiple activities to improve research culture, diversify the community, and improve the working environment. I am a passionate believer that diversity leads to a better workforce and more creative thinking. I am also a founding member of the PRISM network,which supports those of us who work in hybrid roles between research and administration.
Supporting a broad range of research activity, primarily in Mathematical Sciences. It is essential for the effective delivery and legacy of SAMBa that we have a thriving research community in the department. In recent years I have been heavily involved in writing successful grant applications (e.g. Reimagining Recruitment, Capacity Building in Mongolia), as well as our REF return which I have enjoyed.
Working on international partnerships, particularly with collaborators in Mongolia, Mexico, Chile, Paraguay and Germany. Prior to the pandemic, I used to get to do quite a lot of international travel and it was such a great way to see the impact of mathematical sciences research and the benefits accrued from international collaboration.
I also have a role overseeing all the Centres for Doctoral Training at the University. The aim is to drive initiatives to generate added value to the whole portfolio but The pandemic has meant we have been working together to make sure we continue to support our postgraduate cohorts and find new ways to deliver the goals of the CDTs.
What are the biggest challenges your area of work is facing right now?
As the University sector faces more and more financial pressures, it becomes more difficult to find money to invest in research. Research delivers over medium to long timescales and the benefits often can't be measured easily – investment in a research sabbatical could spark a collaboration that 10 years later leads to the Fields Medal or a Nobel Prize, but there is no way this can be predicted and, when budgets are tight, it often means that the initial investment is not made. However, this is likely to have a detrimental effect later.
And what are the big opportunities?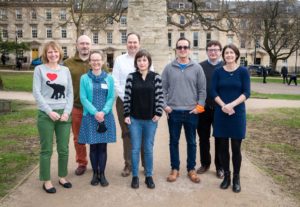 SAMBa is a great example of how to enable a department can through investment in postgraduate research and training. We have created a brand where we are not only known for the quality of our training and research but also our successful external collaborations, supportive environment, and emphasis on diversity. It feels like we have reached a critical mass where the whole is far greater than the sum of its parts and this has a hugely positive impact on the whole department. It would be great to replicate this across more of the University. Whilst other places are hesitating over investment in postgraduates, the institution has the opportunity to initiate schemes to identify us as a sector leader, attract top quality PhD candidates, and drive a positive research culture that will surely generate some excellent innovation and impact.
As a leader how do you get the best out of your staff?
I am a great believer in empowering people. Of course this should be a supportive environment where they feel comfortable asking for help or advice if required, but there is no way that we could have made such as success of SAMBa if the team weren't continually using their initiative, coming up with new ideas, and implementing them. Not everything works of course but that's OK – we learn a lot from the experience and in the long run the successes far outweigh the failures.
How do you hope your colleagues would describe you?
This is a really difficult question! I hope that they would think of me as someone who – in a variety of different ways, working effectively with different people – makes good things happen.
Highlights of your career so far?
One of the things I have learned during my time in SAMBa is that often I get the most satisfaction looking back over a period of time, and what has been achieved rather than individual successes. Research and training is very often about a succession of ideas and innovations that build upon each other. When I reflect on what we have achieved as a whole with SAMBa I feel so proud and I do believe that we have positively influenced postgraduates and staff, both in delivery of research and personal experience.
In 2018, I was nominated by colleagues – and won – the University's Staff Recognition Award for Overall Excellence. Being recognised and valued by those I work closely with, and them taking the time to make the nomination was absolutely wonderful.
If you could give your younger self some career advice what would it be?
A few years ago, I made the conscious decision to try not to write or say the words "I think". It is so easy to start a sentence this way, but it immediately makes your audience believe that you don't know your subject thoroughly. I am sure this has improved how others respond to me, but it has also helped with how confident I feel – just the process of challenging myself to decide whether I "think" or "know" has made me aware of how much expertise I have gathered over the years. It would have been nice to have realised this sooner!
How do you relax away from work?
Reading or walking are my favourite ways to spend my free time. I do enjoy listening to the cricket whilst doing both of these things, but that has certainly not been relaxing of late!
What do you believe is special about the University of Bath?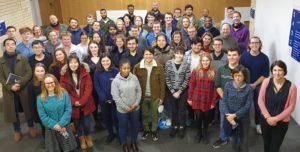 Of course it is the people – for me, job satisfaction is all about people. Great people are everywhere of course but here at Bath, it feels like it is easier to connect those people. I've been able to initiate research collaborations just through having people I know either side of me in the queue for coffee. The physical infrastructure of the University, and the embedded culture of embracing interdisciplinary research, enables partnerships to form in a much more effective way than more diffuse institutions.