When we think about tobacco products, we tend to think of cigarette brands or the large companies behind them, but there is a whole network of independent companies who also contribute to producing the deadly products that secure the profits of Big Tobacco. In this piece, Fred Dunwoodie Stirton of the Tobacco Control Research Group unpicks the complex nature of the tobacco supply chain.
Understanding the tobacco supply chain
Last year the Tobacco Control Research Group at the University of Bath launched the tobacco supply chain database. This unique resource was devised and created by a team of expert researcher, and has two arms:
international trade data: imports and exports of tobacco leaf, tobacco products and supporting industry products
company data: companies involved in the tobacco supply chain, how they contribute and where they are located
Supply chain research has been undertaken in many fields. It helps to foster transparency, and is a useful tool for policy makers, civil society, academics and investors who are investigating complex and damaging industries such as deforestation, mining, and textiles.
The role of independents in the tobacco supply chain 
The tobacco supply chain database database has now added up-to-date information on independent companies involved in the tobacco supply chain, obtained from commercial literature searches and online monitoring. There are currently 754 independent companies in the supply chain database with their headquarters located in 88 countries.
Many independent companies in the supply chain database have a presence in more than one country. For example, ITM (a subsidiary of Tembo) supplies machines to the tobacco industry. With its headquarters in the Netherlands, it operates in Germany, Poland, Russia, Romania, USA, Malaysia, and the Dominican Republic, where it manufactures, sells and services the machinery required to weigh and pack loose tobacco, make filters for cigarettes, and package cigarettes, cigars and other tobacco products.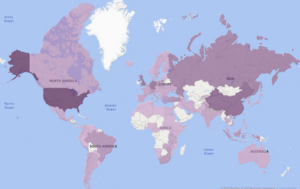 Functions of the supply chain
Figure 2 illustrates the extent and diversity of independent company operations in the tobacco supply chain.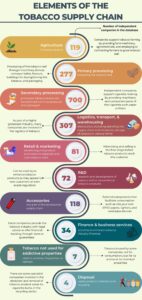 The independent companies in the database range from small entities, with only one or two employees, to multinational companies with multi-million pound turnovers involved in numerous products and services.
Among the examples found as part of the research are multinational company IBM, which worked with British American Tobacco to implement a new logistics system in over 180 countries, and law firm Linklaters, which advised China Tobacco International (HK) Company Limited, a subsidiary of China National Tobacco Corporation (CNTC), on an acquisition. This supported CNTC's aspirations to expand its business globally.
Involvement with the tobacco industry
Companies with large portfolios of businesses or investments in different industries should consider seriously why they are still involved in the tobacco supply chain. It is fairly common practice for such companies to produce economic, social, and governance (ESG) reports in which they make claims about their positive contributions in these areas. Yet, they profit from the supply chain of an industry whose products kill one in two users, has negative consequence for the health of tobacco workers, and is highly damaging to the environment.
World No Tobacco Day 2023: Grow food not tobacco
There are 119 companies involved in the agricultural element of the tobacco supply chain database. Some of these companies contract farmers to grow tobacco, while others supply the inputs, such as fertilisers and pesticides, for example:
Frowein GmbH & Co. KG, a German company which supplies insecticide to the tobacco industry.
In Indonesia, Andalan Asia Tembakau contracts farmers to grow tobacco.
The farming of tobacco causes environmental and social harms. In addition to desertification and environmental degradation caused by the planting of tobacco, there are multiple reports of poor labour practices including the use of child labour, job insecurity and low paid workers.
Tobacco farmers and those who live nearby can be subjected to a myriad of toxic chemicals which pose serious risks to human life and health. Exposure to nicotine and toxic pesticides can lead to Green Tobacco Sickness (GTS), as well as long-term and chronic health effects including cancer, neurological deficits, and reproductive health problems.
The 2023 World No Tobacco Day campaign aims to raise awareness about alternative crop production and marketing opportunities for tobacco farmers and encourage them to grow sustainable, nutritious crops. It will also aim to expose the tobacco industry's efforts to interfere with attempts to substitute tobacco growing with sustainable crops, thereby contributing to the global food crisis.
Disclaimer: The database is drawn from a range of public sources and aims to identify component parts of the tobacco industry supply chain. No inference should be made regarding any company listed in the database other than we have identified it is part of the tobacco supply chain. Please visit TobaccoTactics for more information.