Author: Henry Lee -
---
When life presents an amazing opportunity, you should strongly consider taking it!
I chose to do my research project in Montreal because of the city; it has been voted as the best city for students in the world and it's also bilingual. You can survive here knowing English or French, but most people speak both. It's a great place to practice French as you can always use English as a back-up. My favourite thing about the city is how multicultural it is, and the people. There is a stereotype that Canadians are really friendly, but this stereotype is definitely true in my experience. There are lots of immigrants here from all over the world (a lot from our neighbours in France!)mm and the social harmony present is really nice. In general, the city is a very safe and convenient place to line in, with excellent transport around the city.
The university, Polytechnique Montréal, has a group called PolyExplore which organises trips for exchange students. I've been to a chalet and skied for the first time in my life, and I've also visited Washington DC and Philadelphia! Washington DC was really beautiful and I'd definitely recommend visiting. There are lots of museums there and you could
spend a long time there if you wanted to see everything!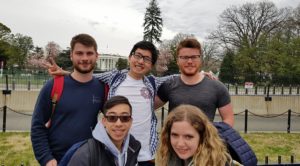 In front of the white house
There's also a group called Mundo Lingo that organises language exchange evenings twice a week. It's a great social event as you get to meet people from all over the world and practise another language with them. People there are very friendly and it's fine if you can only speak one language – just don't let yourself be overwhelmed by the polyglots who can speak more than 3 languages!
There are, of course, some things that we'd find strange in England.
• Tipping and taxes not being included in the price of goods/services
• Number plates only on the back of cars
• Cartons and plastic bags for milk and even sugar
• They drive on the 'right' side of the road
• When it snows heavily, people just get on with life. England would be having a meltdown
• The block system – there are no roundabouts here, and when you cross roads at an intersection, it's strange because there are some cars turning towards you while you're walking across!
Choosing to do my research project in Montreal is undoubtedly one of the best decisions I've made in my life. I'm having a blast here and I really don't want to think about leaving!