Hello everyone!
As February is LGBT+ History Month I though we would take this opportunity to introduce everyone to the committee here at Kaleidoscope LGBT+ Staff and Postgraduate group.
If you'd like to find out more about the committee or the group just drop us an email! Our address is lgbt-staff@bath.ac.uk 
All the best,
Sophie
The committee
Sophie - Co-Chair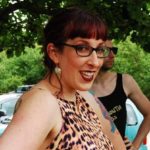 I'm Sophie, bi, 30 and I work in the Marketing Department up in Wessex House. I'm passionate about developing positive, supportive LGBT+ communities and enjoying cider on a sunny afternoon.
I also love rock n roll, dancing, feminism, eating cake!
---
Caroline - Co-Chair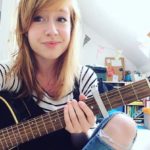 Hi, I'm Caroline one of the Co-Chairs of the Staff & PGR LGBT+ Group 'Kaleidoscope'! I also work in the Accommodation Team for AHS at the University.
I'm proud to be helping to create a supportive and inclusive community at the University of Bath, and hope that we can continue to move forward towards a more progressive future.
A little about me… I am originally from North Yorkshire and moved to Bath to study Sociology at Bath Spa in 2012. In my spare time I attempt to play covers on my guitar, eat lots of cheese and get outdoors for a walk with my partner and Fred the Labrador.
Hope to meet you all soon!
---
Chris - Communications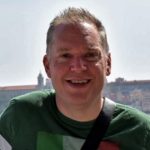 I am Chris, I'm 43 and gay and I have worked for the University for over 7 years, currently for Computing Services. I've previously been a member of the University Equality and Diversity network and I think that diversity is a very important aspect of University life for both staff and students.
I love travelling to places far and wide as I used to have a job that meant I travelled a lot across the world. I also enjoy walking my cheeky Bassett Hound called Bertie.
---
David - Academic Staff Champion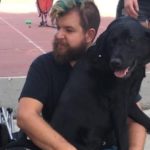 I'm David, I'm 28, bi and a Prize Fellow. I think LGBT+ visibility is really important, and want to help build inclusive spaces, particularly in academia, for LGBT+ staff and postgrads here at Bath. I also like cycling, silly hair colours and live music. And, clearly, dogs.
---
Thomas - PGR Representative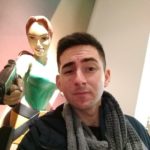 Hi everyone! I am Thomas, gay, 24. I am postgraduate student with the Department of Computer Science, but am based at RUH. Kaleidoscope has a really friendly, inclusive vibe and it's what has kept me coming back. I look forward to meeting you. 🙂
I am also a musician, keen crocheter, and wannabe gamer (i.e. I enjoy playing games but find it difficult to find the time... though, as you can see, I did meet my favourite video game character once!)
---
Jet - Campaigns Manager
---
Andrea - Trans Representative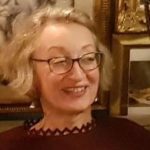 I'm Andrea and very pleased to be the T rep and play an active role on the committee.  I am the Health & Wellbeing Sector Lead for the SETsquared Partnership (part of Research and Innovation Services) based out of Carpenter House in town.  Very happy to translate when we meet!  I love live music and can often to be found in the Bell Inn in Walcot Street.  I'm looking forward to help develop a vibrant and inclusive LGBT network as well as raise awareness and understanding of the T community
---
Judith - Committee Member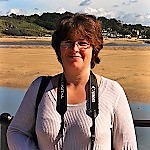 I'm Judith, I'm 40-something and a Health & Safety coordinator for Science. I am bi, and have worked in the university for around a year, and have already change jobs once. I feel it is really important for people to be able to be themselves, without prejudice or special treatment.
In my spare time I am a scout leader and also enjoy going to the cinema with my husband every week for 'date night'.