June 23rd 2016, important not only for a defining referendum, but also National Women in Engineering Day (NWED).  NWED is an international campaign aiming to raise the profile of women in engineering and showcase career opportunities available to girls in the industry and WESBath welcomed 50  year 7 and 8  girls  from local schools to enjoy a taste of what it is like to be an engineer.
A morning of hands-on activities ensued, with the girls dividing their time between building straw towers (hopefully!) able to hold a beaker of water, and donning lab coats and goggles to purify water in the chemical engineering labs. It was great to see the girl's teamwork and competitive spirits coming together in the quest to get the purest water or strongest tower. And if you're wondering how to get a 45cm tower of just paper straws and sellotape to hold a beaker of water I'll give you a hint, triangles!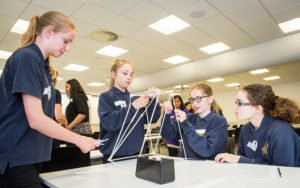 The Water Challenge group activity, held in the Department of Chemical Engineering, engaged the participants in the use of natural materials for the purification of water. For the lab-based activity, the students were divided into small working groups and, as 'Water Detectives', they trialled the use of activated carbon in water treatment. Following the instructions, each group built their own set-up and pumped 'contaminated water' (coloured with food dye) through an activated-carbon column-also constructed by them. The teams who managed to produce and collect the "cleanest" water won our WES prizes!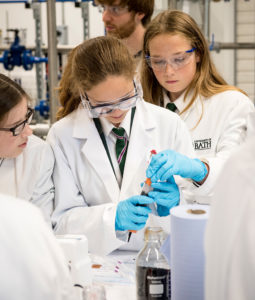 The girls thoroughly enjoyed their morning, and hopefully we helped spark an interest in engineering that may shape their studies to come.
Chrysoula Papacharalampou          Bethan Charles
Mechanical Enginering                    Chemical Engineering