Soapbox science is a unique platform for women scientists and postgraduate researchers to showcase and engage the public with their research. Organised at various cities in the UK and abroad, popular public places are converted to speaker arenas and each speaker gets about an hour to explain and interact with the public about what they research on. I applied to speak at the Bristol soapbox science event and was selected to be one among the twelve speakers from a competitive pool of applications. The title of my talk was "What connects sheep and a DJ? My research is all about finding an answer to that question!". My research focuses on integrating sustainability into the current chemical processing methodology. I am trying to achieve this by using wool as a catalyst support and using these catalysts cloth in a Spinning Mesh Disc Reactor (or a DJ-disc like reactor!) to improve process efficiency. Before the event, there was a training workshop to familiarise the speakers about the format of the event and to come up with a rough outline for the talk.  We were also allocated some funds for any props we were going to use.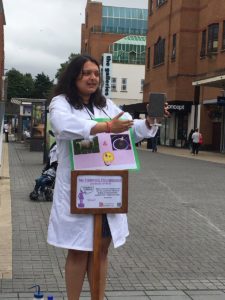 Being an avid science communicator, I have spoken about my research in events like science show-off, pint of science, 3 minute thesis and even busked about my research last summer at the Bristol and Bath Festival of Nature. However, the format for soapbox science is both exciting and challenging. In Bristol, the arena was set-up in the Broadmead area. This meant we had to get the public on high street enthused to listen to what we had to say.

So the possibility of not having anyone around your stall is also quite high and a bit scary! Luckily that was not the case and I was able to get a good number of public as an audience even with a lurking threat of a downpour. Each speaker also got a volunteer who did a great job of helping us with our props and also facilitating with the crowd around us. Post event, we had a small celebration with the organisers and the volunteers at a pub near-by.
I enjoyed being a part of the event in Bristol this year, though I was a bit apprehensive initially about the challenges of the format! This is a fantastic platform for women scientists to involve the public with their research in a more informal setting. I would highly recommend other women postgraduate researchers to be a part of this amazing initiative.
You can find out more about Soapbox Science at http://soapboxscience.org/ and read my pre-event blog here
Parimala Shivaprasad