On 19th March we'd planned to host an internal AAPS CDT Showcase Day on campus, however with the COVID-19 situation it was decided to host this event virtually.
The showcase day was made up with the following parts
An introduction to the CDT from one of the Co-Directors, Richard Burke
An overview of projects available from academic supervisors
Life as an AAPS CDT Student from the current cohort
A Q&A session
An introduction to the CDT
Co-Director, Richard Burke opened the Showcase Day with a presentation introducing participants to the AAPS CDT and the 4 year integrated training programme. Read more about the AAPS CDT and the programme!
Project Pitches
The second part of the Showcase day, was multiple project pitches from supervisors with projects available for potential students to apply for.
The projects that are currently available for applications are listed here, this link is continuously updated with any new projects available.
Life as an AAPS CDT Students from Cohort 1 students
Our current cohort provided an overview of Life as an AAPS CDT Student. The 9 cohort 1 members split into 3 sections to cover all aspects of their experience in the CDT so far (bearing in mind they only started in September!).
Section 1 covered being a Bath UG student, the transition from being a UG student to a CDT student and also covered the two different routes of joining the programme.
Alex Young: Having done my MEng degree at the University of Bath, I did feel somewhat apprehensive about the transition into the CDT whilst staying in the same place. I often found myself thinking about the MRes year and if/how it would differ from my undergraduate masters. However, I need not have worried. With the MRes year bridging the gap from undergraduate to PhD studies, the course was a completely different experience from my previous masters; providing an excellent opportunity for me to develop the necessary skills required for my PhD and future beyond, whilst having enough familiarity to my undergraduate studies for it to still be accessible. Furthermore, when compared to a traditional PhD, the CDT has the huge benefit of being part of a cohort of new students, which makes the transition a much less daunting experience. By the end of the first day, I already felt like part of a whole new group. Compounded with almost a years' worth of collaborative working and social events, I have gained many friends, some of whom I plan to live with next year.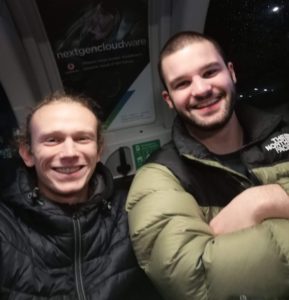 Rob Gray: I joined the CDT with a project and it was great to have a clear view of what  am going to work on for my PhD, before even starting in AAPS. Since joining AAPS in September I have had the opportunity to meet with my supervisor and plan future experiments in a flexible manner. During the beginning stages of the MRes year I got to write a proposal for a Synchrotron experiment and had the opportunity to meet future potential collaborators at Universities in Sweden.
Thomas Barthelay: I joined the CDT without a project but knew the subject I wanted to study and within a few months found a project I was interested in. After speaking to the project supervisor and the rest of the team, I knew that this was the group that I wanted to be a part of for my PhD years at Bath. Almost immediately after saying that I wanted to do the research project, I went to Sweden to discuss research opportunities with the other researchers in this field, you can read about this trip in a previous blogpost. This was a great experience and a chance to learn what was at the forefront of this type of research. Not only was there access to lead researchers in the field, but I was fortunate enough to be invited to Diamond Lightsource to help with other students experiments on the synchrotron. This was an opportunity that not many students would get for their entire PhD, so to have this before I even started was very exciting. This experiment allowed me to learn more about the instrument but also to prepare me for when I would be constructing proposals for use of the facility and conducting my own experiments there. I have also been heavily involved in setting up our very own research lab with the purchase of an inert atmosphere glovebox, a high-tech piece of equipment used to build and test batteries in a controlled environment. Allowing me the freedom and flexibility to prepare for bespoke setups for my own research.
In section 2 the students discussed what it is like to be part of a transdisciplinary cohort and working as a team
Catherine Naughtie:- Being a psychologist in the AAPS CDT gives you the opportunity to apply theories from psychology to important and pressing issues in transport and automotive engineering including the implementation of autonomy and 'self-driving cars', understanding behaviour change and the adoption of pro-environmental behaviours, and crucial issues around road safety. This transdisciplinary CDT provides the environment where you can work with work students and researchers from across the university to conduct research that can have real-world impact on vehicle design, public policy, and road safety.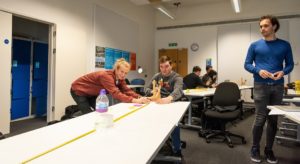 Ciaran Llewelyn: Being a chemist within AAPS CDT has opened numerous research avenues and areas that were previously inaccessible as a pure chemist. The opportunity to work first-hand with engineers and colleagues from engineering has enhanced my possibilities and tuned my skills to more than that of a pure chemistry route. Near the beginning, the thought of embarking on an engineering orientated course was daunting for one with little engineering exposure whatsoever, however, the openness of the staff and colleagues to help with this transition was superb. The staff and cohort allowed and encouraged the respective fields of the non-engineering background students to thrive within the context of automotive engineering and beyond. The AAPS CDT allowed for transdisciplinary ideas to thrive focusing on projects which allowed for numerous specialties to work in conjunction with one another, a great example is the module focussing on the development of a 2030 future vehicle. This called upon aspects of numerous disciplines from within the cohort and formulated in an extensive research project which was presented as part of the CDT.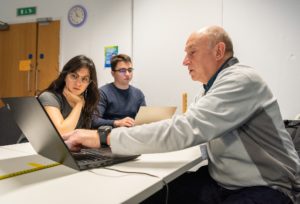 Elisabetta Schettino: Being an engineer in the CDT and taking part in the MRes is really beneficial to me personally. The topic of my Ph.D. will involve a lot of chemistry and electrical engineering knowledge which, because of my background in Mechanical Engineering, I have been lacking. The Chemists and the other engineers in cohort 1 have helped me grasp very quickly many concepts that have felt very unfamiliar to me when introduced by my supervisors. I am already meeting with my PhD supervisors regularly, as I know what project for next year will be, and they have noticed how, thanks to my colleagues, I rapidly begin to understand these new concepts. This has made me realise how lucky I am for having the opportunity of being able to interact with a transdisciplinary group every single day. The MRes year also helped me consider other aspects of my future PhD topic which made me look at it with a very critical eye.
Section 3 covered some of the key training activities that have been covered in the MRes year so far and industry engagement.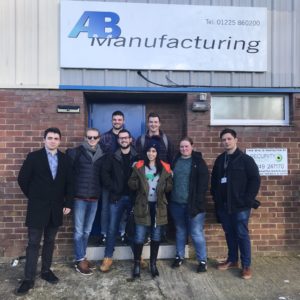 Edgar Romero: During our MRes year so far, we have been fortunate to visit several organisations within the automotive sector helping accelerate the transition towards sustainable energy or reducing vehicle development costs by employing modern technology. Aspire Engineering, for instance, specialises in remanufacturing of automotive parts and subsystems, thus increasing the components' useful life and reducing the cost to the customer. AB Dynamics develop life-size vehicle simulators, with a wide 180- degree display screen and powerful computer graphics, which automotive companies can use to fine-tune their vehicle powertrains to provide the best driving experience for customers without the need to spend a dime on prototypes.
Vicentiu Iulian Savu: The Integrative Think Tank (ITT) represents one of the highlights of each semester, as it has the role of bringing together academics and PhD students from across the university, as well as industry partners, with the aim of identifying a broad range of research activities associated with complex challenges encountered by the Automotive Industry. For ITT1, in January, the industrial partner was AVL. The research themes proposed from AVL for ITT1 covered a wide number of areas, ranging from powertrain and vehicle architecture to digitalisation and user behaviour, and, as a result, the event had the additional benefit of bridging the gap between academic and industry-focused research for many of the incoming PhD projects.
The ITT includes exciting research opportunities, and social activities which makes the ITT events a highly enjoyable experience for all, and we are looking forward to ITT2 in June, which we are preparing in our Student-Led-Symposium Unit this semester.
Immanuel Vinke: For one of our semester 1 projects, we were allocated a week of chassis dyno testing with a Toyota Prius Generation 3. The first step taken by the group was to split into sub-teams, each of which had a specific area of the drivetrain to research, from the battery charging to the engine exhaust. The whole group defined outcomes that we wanted to achieve by the end of the week and subsequently, create tests to be undertaken during that week to obtain these goals. These included different drive-cycles, ambient temperatures and states of charge to test the different parts of this hybrid-petrol powertrain. After having organised a week-long timeline to carry out all the tests and recharge times required, supervisory teams were formed that make sure the tests ran as required. During the testing week all collected data from the vehicle's ECU (Engine Control Unit) and the testing rig was organised to ensure the entire team had access to carry out their individual analysis. Within the group, projects included mechanical engineering work dealing with the engine or gearbox, chemical and electrical engineering research dealing with batteries, power management and psychological investigations to study how the changes to the vehicle would change driver behaviours. The results obtained from this research are being used in our subsequent projects in our semester 2 units, carrying on the transdisciplinary research on the vehicle powertrain.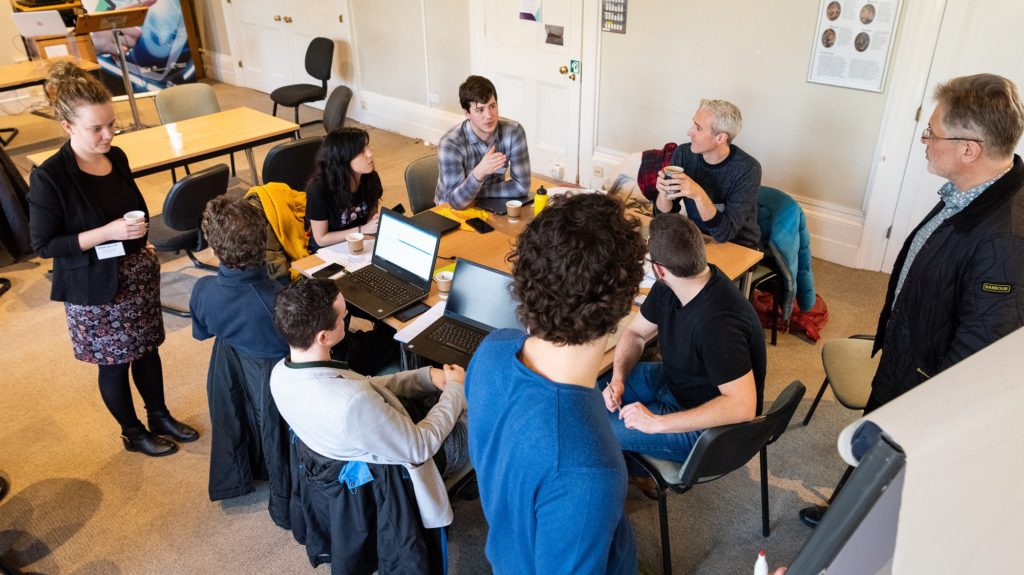 The showcase day finished with a Q&A from participants. We were able to display the wide variety of specialities within the CDT and the different skills students learn throughout the year. This is the start of an exciting journey for the AAPS CDT as we wait to see what other great work Cohort 1 will produce as well as the opportunities that await future cohorts!