Your conclusion is very important as it presents the final words of your assignment. It should leave the reader satisfied that you have provided a thorough, well-researched and reasoned response to the assignment question.
Your conclusion should move from the specific to the general (Introductions move from general to specific). You can begin your conclusion by reformulating the thesis statement you wrote in your introduction. This will remind the reader of the purpose of your essay.
Your conclusion should also include some or all of the following elements: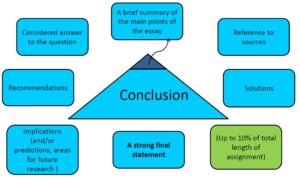 Here is a simple conclusion to illustrate how it works: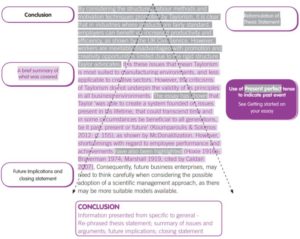 Example Conclusion from Hopkins, D. and Reid, T., 2018. The Academic Skills Handbook: Your Guide to Success in Writing, Thinking and Communicating at University. Sage.