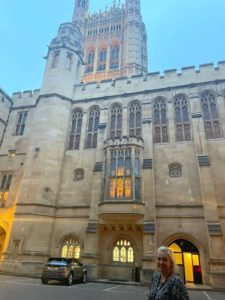 Representatives from the Widening Access and Participation team were over the moon to receive their award for University Access Initiative of the Year from the Student Social Mobility Awards at the House of Lords yesterday evening.
The Pathway to Bath programme launched in 2019, and has grown year on year since then. Pathway is a blended outreach programme which leads students through an independent research project, working alongside postgraduate and undergraduate students. Students gain an understanding of the research process, and write up a final report which enables them to receive an alternative offer for study at the University. The programme concludes with a residential on campus, where students get to experience student life at Bath.
The Student Social Mobility Awards, run by UpReach, have been awarded since 2018 and recognise the excellent achievements of students from less privileged socio-economic backgrounds. The award for University Access Initiative of the Year decided by a student vote on an Upreach-selected shortlist, which makes us particularly proud of this recognition as it means that the students that have taken part it the programme, and the student ambassadors and mentors who have worked with us support the achievement.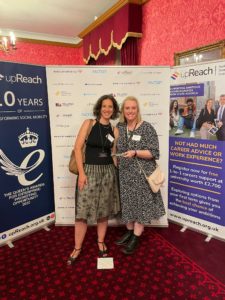 Having developed the online programme before the COVID pandemic, our team were well set up to continue supporting students throughout the pandemic. We're delighted that the hard work of a large extended team over the past few years has been recognised with this award. The students that have participated in the programme tell us they have really benefitted, with many students now at Bath studying for a degree and beginning to join the team as student ambassadors.
The awards ceremony at the House of Lords was a great event and an inspiring evening, with lots of fantastic students begin recognised for their brilliant work. The team who attended had a great evening, and were thrilled to receive the award.
Pathway to Bath has also be recognised with a commendation for the Best Outreach Initiative in the NEON Awards 2022.