Congratulations to the winners of the Vice Chancellor's Outreach Awards! In total 29 award nominations were received, and the judging panel had great difficulty selecting the final winner for each award.
Winners were announced by the Vice-Chancellor, Prof. Ian White at a celebration event on Thursday evening. It was great to see so many people from across the University gather together to celebrate outreach, get to know others in the University who are involved with outreach, and to eat cake!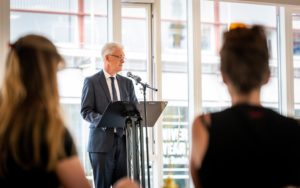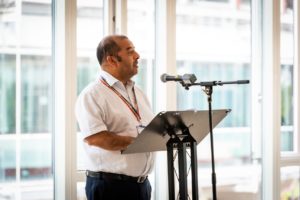 The winners and runners up in each of the five categories are:
Engage
Gavin Knowles and Pooja Anil Kumar Nair - Winners
Gavin and Pooja have contributed to Widening Participation programmes Discover Bath and Pathway to Bath. Pooja added to the project when it was reused for Pathway to include engaging videos explaining the topic. Gavin and Pooja were also part of the team organising a Decolonising Architecture workshop for the Pathway residential.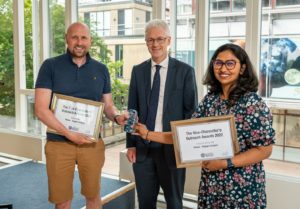 Rachel has worked as a tutor for Widening Participation's Pathway to Bath programme. Rachel has also shared insights from her own research on addiction, cannabis, and CBD with a range of audiences, guesting on podcasts and giving a school talk on cannabis use and the adolescent brain. She has also run a virtual workshop for patients with psychosis who use cannabis, entitled ""What can help if you want to reduce / stop your cannabis use?"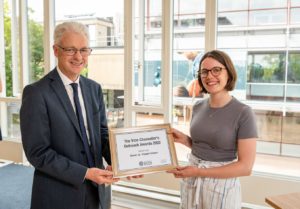 Reach Out
Nina Higson-Sweeney - Winner
Nina hosts and produces a podcast titled 'Black Future Dr', where she interviews black doctoral students from different institutions across the UK in a variety of disciplines. The podcast aimed to provide a platform to showcase black excellence in the UK postgraduate researcher community; to increase visibility and encourage the younger generation; and to raise awareness of some of the challenges faced for black PGRs. The podcast has been listened to over 1,200 times, with listeners from across the globe.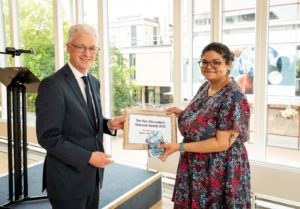 Stephen Flower – Runner up
Steve takes on multiple outreach activities, but is specifically nominated for his work volunteering at Vinney Green secure children's home in Bristol, to enhance the delivery of science lessons. Residents of the home are usually children who have repeatedly absconded from "open" care homes and often have complex histories and display challenging behaviour and many have experienced significant trauma.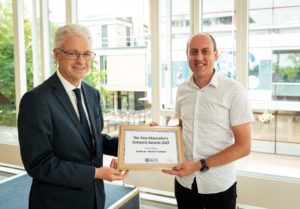 Support
The CSCT team has always played a central role, albeit behind the scenes, in the engagement activities of the Centre, taking care of logistical aspects and organising training. But more recently, the team has become even more involved. The team ran a questionnaire designed to find the causes of a decline in outreach involvement and identify possible solutions, finding that researchers wanted to target different audiences, such as underserved local communities. One of the resulting projects is a collaboration between the CSCT and the Knowle West Media Centre (KWMC), a charity in a highly deprived area of South Bristol.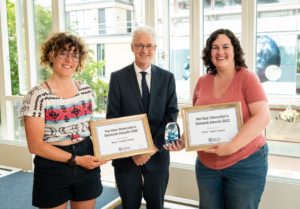 Chris has supported the Widening Participation outreach teams in the creation of IT solutions that have had a critical impact on outreach work, from both a safeguarding perspective, allowing students under 18 to safely engage with blended and online programmes, but also from an efficiency point of view – very important with increasing numbers of participants on WP programmes. This has also encouraged upskilling within the WP team, whereby Chris has provided training, as well as ongoing support to resolve issues and troubleshoot.
Impact
In 2020 Sabina gained funding from the Royal Academy of Engineering to develop an interactive performance for primary school children to explore how human movement is underpinned by engineering principles and how engineers help the body to repair following injury. She worked with teachers, parents and children together with academics to develop a 20 minute puppet theatre show called RATLab. 15 early career researchers and postgraduate students received training on puppetry, communication and public engagement, which they reported built their confidence and gave them tools to engage. In total, 25 performances were delivered to 597 school children.
Harindi Jayakody – Runner up
Harindi launched an Instagram page (@brownstemgirl) in 2020 to inspire more girls and women to join STEM. She hosts Instagram live talk shows interviewing fellow women in STEM to share their experiences, providing visible role models to other girls who may want to join STEM but are influenced otherwise. Harindi has also collaborated with other social media personalities to promote women and girls in STEM. In collaboration with other organisations, Harindi has also led panel discussions and online events discussing both issues of women in STEM and topics in biotech.
Dedication
Sandra's dedication to outreach and public engagement was reflected very soon after her arrival at the University of Bath. She has organised a range of outreach activities, including a workshop celebrating 100 years since women obtained the vote, which resulted in banners, posters and embroideries being displayed at the library. Sandra has collaborated with the Holburne Museum to run a scavenger hunt around the museum collections, searching for works by women. This engaged children and adults alike, and sparked discussions about women's absence from the arts. ISandra has also put together a workshop inviting children and adults to create their own feminist museums. She has recently obtained a grant to put on a series of events in three different Bath museums involving local schools.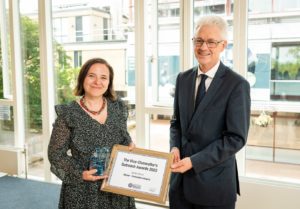 Richard Joiner – Runner up
Richard has unfailingly supported the Widening Participation Team, over several years, taking part in numerous outreach activities. Every year he works on the Social Sciences and Humanities Residential, now called Discover Bath, first starting when the programme it was still in its initial development stages. Eight years later and Richard still commits every July or August to give up his time for this residential. Richard will also contribute to school programmes giving taster lectures when requested and any subject specific programme days that are run within the department.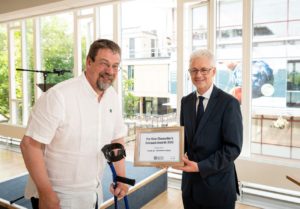 The Vice-Chancellors Outreach Awards will run every two years, and will return in 2024. Find out more about the categories on the Outreach Awards webpage.
If you are engaged in outreach work or interested to find out more then you can join our Outreach Network, where lots of like minded people gather and support each other with outreach work across the University.