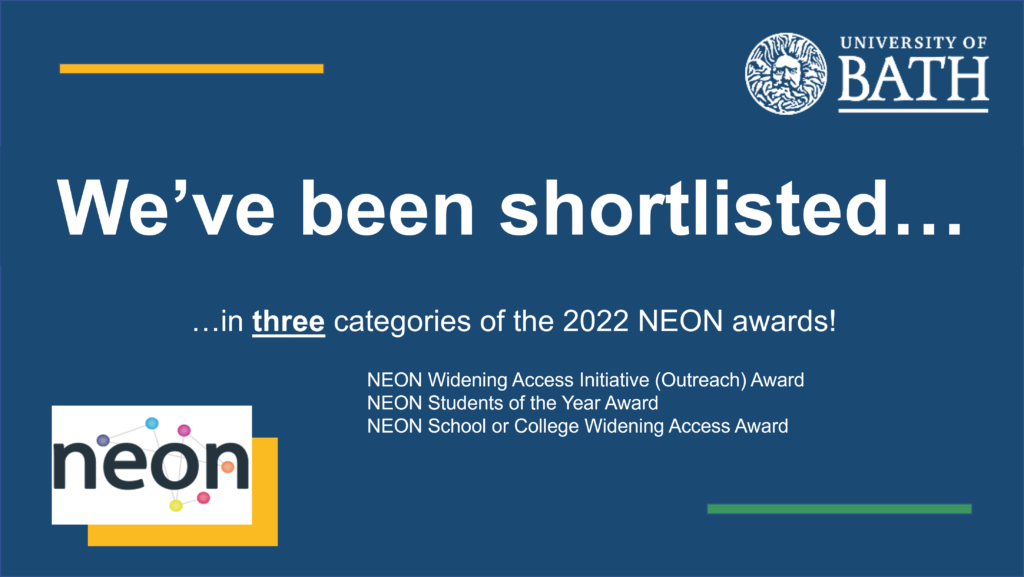 The Widening Access Team are delighted to be celebrating 3 nominations in the 2022 NEON Awards.
There are seven categories in the NEON Awards, and this year, the University of Bath have been successfully shortlisted in three of them:
NEON Student of the Year Award – A participant on one of our outreach programmes herself whilst at school, 3rd year Management student Ciara Sherlock now brings her passion, energy and authenticity to the role of Outreach Ambassador. Her shortlisting in this category recognises and represents the fundamental work of students in widening access to higher education.
NEON School or College Widening Access Award – We're delighted to have been able to nominate one of our partner schools, The Angmering School in West Sussex. They have been shortlisted in celebration of their tireless work in successfully supporting learners from under-represented groups to enter university.
NEON Widening Access Initiative – Our pioneering Pathway to Bath programme has been shortlisted in this category; recognising the leading practice demonstrated by the team in developing and expanding a distinctive, innovative, blended outreach programme. This year, we welcomed over 400 students to the programme.
We look forward to celebrating the well-deserving shortlist, alongside colleagues and students from the wider sector, at the NEON Awards Ceremony in Westminster on 11th May!
NEON is the professional organisation supporting those involved in widening access to higher education (HE). NEON enables those working to widen access to HE at all levels and in all sectors to affect change in their own organisations and communities.
The NEON Awards celebrate the transformative power that HE can have and recognises key achievements in the widening access sector. They provide a platform to celebrate the successes and accomplishments of NEON's members and their learners in widening access to higher education and enabling social mobility.