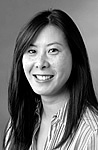 Felicia Fai, Lecturer, School of Management
What is Aurora and why did I go?
In 2014 I was one of ten pioneering women from the University selected to attend the LFHE's 'Aurora - Developing future leaders for higher education' programme, established in response to the recognition that women are under-represented in senior leadership positions in HE.
"Aurora" in mythology is the goddess of the dawn and in the Disney version, it's the name of Sleeping Beauty, who is awoken from a deep slumber. In darker versions, Sleeping Beauty was drugged and abused while she slept. The programme clearly signals the beginning of serious efforts to encourage the flow through of women into more senior positions along both the academic and professional administrative tracks across the HE sector.
I was quick to apply to Aurora, why? Because with a length of service that would place me as a mid-career academic, I had found it hard to move forward. Was it me? Was I not good enough, intelligent enough? Didn't I work hard enough? Was there something I could do about it? I went with few expectations, just curiosity and hope for some answers as did about 1000 other women across the UK and Ireland.
Structure of Aurora Sessions
There were 5 sessions run monthly from January to May, they covered:
• Identity, impact and voice
• Power and politics
• Action learning set
• Core leadership skills
• Adaptive leadership skills
Each session was supported by online materials and exercises which were to be read/ completed before the meeting so that you had engaged reflectively with the material already.
The sessions themselves were day-long, run by a leader and used a mix of presentations, interactive sessions and group activities coordinated by a leadership mentor at each table. There were also thought-leadership keynotes by women who "had made it"– mostly in HE, although Oona King talked about her struggles in the political arena. There was also an action learning session where we all had to outline an issue we were tackling at work and others had to help us find our own solution to our problem.
For the most part, I personally didn't find that the prior reading and exercises often fed directly in to the sessions, but it was interesting to reflect upon my own situation and perspectives. The sessions themselves were inevitably variable, as we all go with our own agendas. All sessions tried to pack a LOT into a single day and for exercises that require thoughtful reflection, there was never enough time to do this effectively. The keynote speakers were all intelligent, witty, successful women and it was interesting to hear about their journeys. Again, some resonated more than others.
Did I find my 5 month commitment useful?
I guess my initial response was warm. The University of Bath is unusual with a female VC and Pro-VC of Research. In the School of Management we have a female Dean and Associate Dean for Research. This had an effect on my perspective as our female leaders are very visible; that's why I put my slow progress down to me, rather than institutional or sectoral factors. The opportunity to network with colleagues from elsewhere revealed Bath does do relatively well supporting females but it still has room for improvement.
The sessions on leadership made me acknowledge that there is very little wrong with me (!). In fact, I have many attributes that make me a good potential leader. Nevertheless, the power and politics session confirmed there was more I could and should be proactive about to enhance my prospects (and indeed I have been).
Overtime Aurora's value to me has risen as some of the more subtle points of bias it highlighted have struck me. For example, some student feedback I received in the past used negative terminology for an attribute which, prior to Aurora, I accepted as a personal character flaw. However now I know that research exists to show that the same attribute would either be commented on in positive terms, or not at all, for a male colleague. I see injustice in that because we may find ourselves defending things in our annual reviews that our male colleagues wouldn't, and such subtleties may cumulatively lead us to fall behind.
Aurora comes at a time when there appears to be a general movement encouraging us to "lean-in". At Bath, the shared experience of the 10 pioneers, our mentors and leadership champion, suggests we have not been abused in our 'slumber'. Yet there is value for all females in the University, indeed sector to be more aware of the subtle cultural challenges (as opposed to legislative ones) we face in trying to make headway in our careers in HE and it is up to us collectively to help the University and HE sector shape its response and enter a new 'dawn'.