Cooking from Cans - and the hidden gems in your cupboard
I've heard adversity is an opportunity for creativity. Empty supermarket shelves and limited shopping trips doesn't have to mean beans on toast every night. In fact, there are a hundred ways to cook canned goods if you're running low on supplies. And not just beans, mix and match the cans in your cupboard to create tasty dishes.
Using canned food to rustle up lunch and dinner isn't just a great way to save money. According to the Academy of Nutrition and Dietetics canned foods can play an important role in an overall healthy diet. For example, tinned potatoes are a really good source of vitamin C, and tinned sardines give you your full daily allowance of vitamin B12.  Tinned fruit and veg is just as nutritious for you as fresh.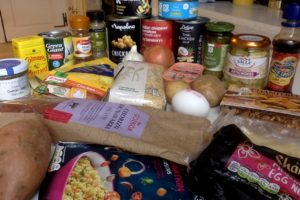 You could also save the planet by reducing food waste when you use the entire tin, avoiding plastic waste and recycling the tins and jars. If you're convinced cans are the way forward here's an easy recipe to encourage you to reach into that cupboard.
Thai Chicken Soup with Egg Noodles
Soak a tablespoon of dried mushrooms in hot water for 10 minutes.
Soft boil an egg
Fry a chopped clove of garlic and a chopped shallot gently in a saucepan for 2/3 minutes, add half a teaspoon of mixed spice.
Add the chopped soaked mushrooms to the pan, fry gently for two minutes.
Pour the Thai chicken soup into the saucepan with the spiced garlic, shallots and mushrooms and heat gently.
Cook the egg noodles following instructions on pack. Drain and add a tablespoon of soy sauce, toss and serve in a bowl
Add sweetcorn and bamboo shoots to the soup, heat through and pour over noodles.
Place the soft-boiled egg on top and cut in half. EAT!
Don't be afraid to experiment and throw things together. You probably have rice, potatoes, pasta etc. in the cupboard. Canned goods make great one pot dishes or sides to accompany these staples. Roast cubed sweet potato in a little olive oil and cumin seeds. Add to cooked couscous, chickpeas, finely chopped shallot and crushed garlic. Garnish and serve with artichokes from a jar for a quick meal.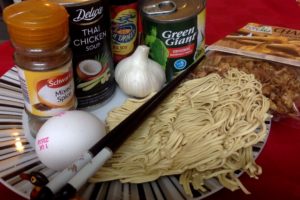 Tuna pasta bake, sardine curry puffs, bean burgers, hummus, chicken casseroles and frankfurter chilli are just a cupboard away. For more recipes ideas check out Tin Can Cook: 75 Simple Store-cupboard recipes by Jack Munroe, food writer and anti-poverty campaigner. Remember the greatest dishes are very simple.