Architecture student Juhi Parmar talks about ways to celebrate the Lunar New Year.
Lunar new year is a widely celebrated festival in several countries in Southeast and Northeast Asia including China, Japan, Malaysia, Vietnam, and South Korea. Usually, this festival falls between 21st January and 19th February on the Gregorian calendar.
Traditions vary in each country and below are some festive activities from various countries that you can do to celebrate this occasion. Due to the current pandemic, celebrations will be different this year, but you can find ideas of things you can do at home by yourself to celebrate as well!
Many of you may already be aware of this festival and celebrate it regularly. Hopefully, you will be able to learn about how it is celebrated in different countries and get inspired to try out new activities. For those who are not so familiar with this festival and the cultural traditions associated with it, hopefully you will enjoy this opportunity to learn more!
Clean your house
You can do a full deep clean of your house before Lunar New Year to sweep away old things, bid farewell to the previous year, and invite the good luck that the new year brings into your home.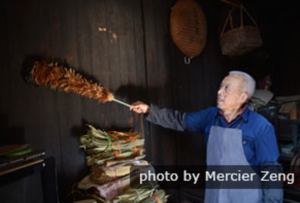 Decorate your house
This is a great way to do something hands-on and get into the festive spirit!
Chinese paper folding fans (Chinese New Year tradition)
Find instructions on how to make it here. To make this you will need some red paper, gold paper and gold ribbon.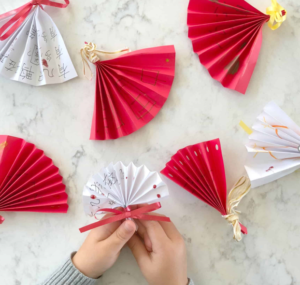 Paper lanterns (Chinese New Year tradition)
 These are super fun to make as you can get creative and try making them in different sizes and colours. (However, red and gold are lucky colours in Chinese culture) They are a popular Lunar New Year decoration that can usually be found in Chinatowns all over the world. Instructions on how to make it can be found here. You will need some red paper and gold paper.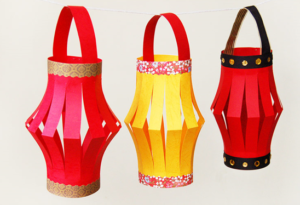 'Chun Lian' or Spring Couplets
These are mainly short poems written in Classical Chinese that contain good wishes for the New Year. They are red vertical scrolls of paper with text in black ink. These require a lot of skill to create by hand and today most couplets are printed. You can find out more information about these here.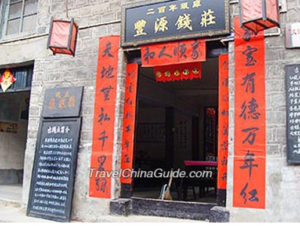 Cook traditional Lunar New Year dishes and have a feast with friends and family!
You can try cooking some of the dishes mentioned below and have a feast! You could encourage your friends to try cooking the same thing and eat "together" on a Zoom call. Having a feast for Lunar New Year is a tradition in both Korean and Vietnamese culture.
China: Nian gao (rice cake) and fish (yu)
Nian gao (rice cakes) links to the phrase "nian nian gao sheng", which means "increasing prosperity year after year". Yu (fish) links to the phrase "nian nian you yu," meaning "may the year bring prosperity." One way to eat yu (fish) is to steam it with ginger and soy sauce. This is a symbol of prosperity. Another way to eat it is to have it whole. That is a symbol of unity. Try out the recipe here.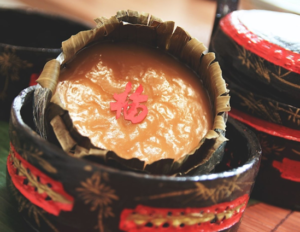 Vietnam: Banh chung (steamed square cake) and gio cha (Vietnamese sausage)
Banh chung (steamed square cake) consists of glutinous rice, mung bean and pork and is usually wrapped in banana leaves. It symbolises Earth. On the other hand, gio cha (Vietnamese sausage) is either boiled or deep fried and is enjoyed with xoi (Sticky rice). This is the main dish for the holiday and is part of the meal eaten to worship ancestors. The red colour of the dish symbolises good luck for the New Year. Get the banh chung recipe here, or check out this website for the gio cha recipe.
Korea: Tteokguk (Korean rice cake soup) and Manduguk (Korean dumpling soup)
The rice in Tteokguk (Korean rice cake soup) resembles old Korean currency. This is a symbol of wealth and prosperity. Try the recipe here. Similarly, the dumplings in Manduguk are considered 'money dumplings.' Check out the recipe here.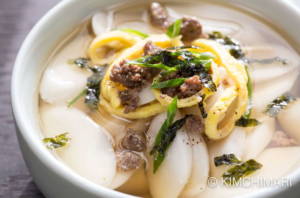 Eat pineapple (Malaysian Lunar New Year tradition)
Pineapple is seen as an auspicious fruit for Malaysians during Lunar New year because pineapple sounds like 'prosperity is coming' in the Minnan language (a Chinese dialect in Fujian and Taiwan). Most Chinese people in Malaysia are from Fujian.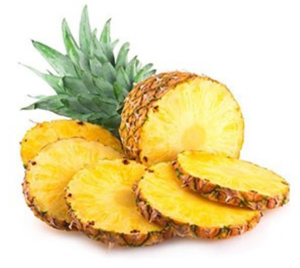 Give gifts and send good wishes to friends and family
Wish your friends and family good luck and happiness for the New Year ahead.
 "Lucky dip" bag (Japanese Lunar New Year tradition)
A lucky-dip bag or mystery bag is a gift bag filled with unknown items.  These are usually sold at a much cheaper price and are believed to bring good fortune in the Lunar New Year. You can these shipped directly to your friends and family from online. One place to buy these from Etsy.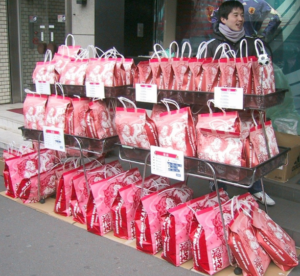 Two oranges (Singaporean Lunar New Year tradition)
Singaporeans usually gift two oranges to friends and family. These symbolise 'good luck' and 'great fortune' as the sentiment is that good things come in pairs. You can buy these from a supermarket yourself and ship them to family and friends.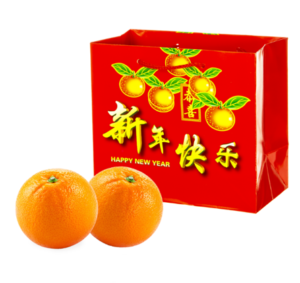 Sources:
Scholastic, China Highlights, Travel China Guide, China Travel, Spoon University, Case Western Reserve University