Each month we ask our International Wellbeing Ambassadors some questions to find out how they've got on living in the UK. This month hear from Ananya, a Psychology student originally from Delhi, India.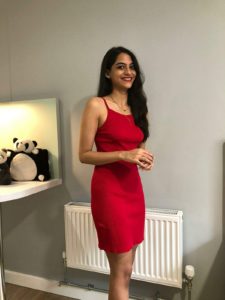 What is the biggest similarity between your hometown/country and Bath/UK?
Love for cricket.
What do you miss most about your home country? How have you overcome this, was there a positive outcome?
I missed Indian food and spices. I managed to find the spices being sold online, and I also taught myself to cook some of my comfort foods which reminded me of home.
What's something surprised you about moving to/living in the UK?
The weather, I was not used to the constant drizzling or windy weather.
What are your top three things to do in Bath?
Go on walks, shop in SouthGate, try out new cafes and restaurants.
Are you part of any clubs/societies at Uni or in Bath?
I am a part of the Indian Society and have written content for the Media Society.
What do you love most about living in Bath?
I love the scenic beauty of Bath. The city looks beautiful in the sun and instantly makes me happy.
What's your favourite place to eat/favourite takeaway in Bath?
Chilli Family Noodles!
What's the best or worst thing you've eaten since being in the UK?
Best: Mr Kipling Angel Slices
Worst: baked beans on pizza
Is there somewhere in Bath/UK that you'd like to go but haven't been yet?
Edinburgh - to see the pandas in the zoo!
What's your favourite or weirdest UK tradition you have learnt about?
Guy Fawkes night - it's super cool and I love the fireworks.
What's your favourite British slang/word?
Knackered because it sounds funny! (It means tired).
What's your top tip for International Students
Don't expect to settle into a new culture immediately - it takes time but it will happen eventually. Also, prepare for the weather!