Each month we ask our International Wellbeing Ambassadors some questions to find out how they've got on living in the UK. This month hear from Aneekha, a Psychology student from India and the UK.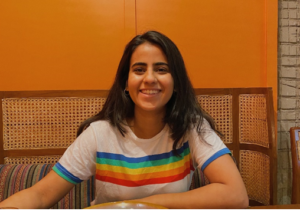 What is the biggest similarity between your hometown/country and Bath/UK?
I would say that the biggest similarity between India and Bath would be the welcoming environment. I feel that both communities can be really daunting and overwhelming, however, as you start to interact with more people, it doesn't take long to integrate and feel at home.
What do you miss most about your home country? How have you overcome this, was there a positive outcome?
I think food is definitely something that you miss, and home cooked food is something that is hard to replace. However, my tip for this would be to make sure that you bring snacks, and even try and freeze some home cooked food, so that you can take it with you and eat it whenever you crave it.
What's something surprised you about moving to/living in the UK?
As an Indian, I didn't realise how many people there would be who were just like me and are going through the same things as me. I would say that the more you put yourself out there, the more you realise that you share many experiences with a lot of the people around you, which can help with the homesickness as you get a little 'home away from home'.
What are your top three things to do in Bath?
Go to the Royal Crescent – it's something that you won't find anywhere else and it is a beautiful place for a picnic or some cute pictures!
If you are on campus, I would definitely recommend going to Sham Castle, and if you can, I would suggest going at sunset. It has a beautiful view of the city, and I went quite frequently back in my first year
The mini golf/ice-skating at Royal Victoria Park is super fun! I would recommend going for either one or the other!
Are you part of any clubs/societies at Uni or in Bath?
I am part of the Indian society, Tennis Society, and on the committee for Nightline, the student listening service offered to the University students
What do you love most about living in Bath?
Honestly, my favourite thing about living here is that even though it is a small city, I am always exploring new places, on walks or buses. There is always something to do here! Also, since it is so small, you tend to run into a lot of people you know as you walk around, which is always a friendly surprise!
What's your favourite place to eat/favourite takeaway in Bath?
My favourite takeaway has to be The Stable! They have great gluten free and vegan pizzas, which is super helpful for me, as I have quite a few allergies. Also, their tater tots are amazing and everyone needs to try them!
What's the best or worst thing you've eaten since being in the UK?
I think the best thing has to be the English Breakfast. You cannot be in the UK without trying it at least once!
Is there somewhere in Bath/UK that you'd like to go but haven't been yet?
There are a lot of restaurants in Bath which I have yet to tick off my list, and the list keeps extending every day!
What's your favourite or weirdest UK tradition you have learnt about?
I think my favourite British tradition or custom, is that the stereotype of British people loving tea and having to have it almost every day! I don't think I have been converted yet, but it is always fun to see.
What's your favourite British slang/word?
I think my favourite word, which I have incorporated into my own vocabulary, is the word "fairs" which is an abbreviation for the word fair enough. It can be used in a wide range of contexts and is quite useful!
What's your top tip for International Students?
I would just say that don't be afraid to integrate with the wider community. Try and look for groups that you have something in common with, such as an interest, through a society. Or look at similar cultural groups, who are extremely comforting when you are feeling homesick. Or, if you are feeling brave – try something new! No matter what you do, establishing connections make the transition much easier, and can help make the university experience as enjoyable as possible.