This month marks the annual Holi festival and psychology student, Aneekha Bal, shares her experiences of this celebration:
Holi, also commonly known as the festival of colours, is the celebration of victory over evil. Many will be celebrating the holiday by throwing colours and water on each other, but this a festival rooted in culture and tradition.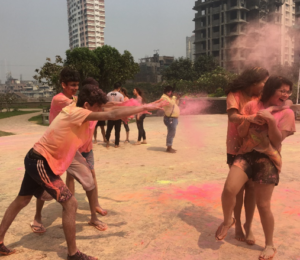 Throwing colour
The legend states that Krishna, one of the main gods in India, fell in love with a woman called Radha. Krishna is popularly depicted as having blue skin, while Radha's is fair and brown. Apparently, Krishna playfully put blue powder on Radha to get her attention. It also has been linked to a story relating to victory over evil, in specific an evil sister called Holika, which is where the name Holi comes from. It also marks the beginning of spring, signified with the throwing of the colours, and lots of popular street foods.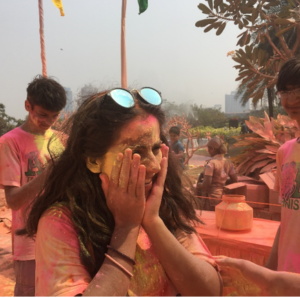 Aneekha enjoying the celebrations
For me, Holi is one of the most fun holidays. My friends and I look forward to throwing colour, water balloons and eating loads of good food. In India, it is common to see people all over the city walking around covered in colour, and throwing water balloons in the streets. Of course, at university we cannot celebrate on the same scale, but last year there was a small celebration on the field, and this year the Bath Indian Society has planned a huge event, that is open to all if anyone would like to join.
Holi is a great opportunity to learn more about Indian culture, through our music, food and dance, so feel free to join in the fun!