Each month we ask our International Wellbeing Ambassadors some questions to find out how they've got on living in the UK. This month we hear from Karen, a Psychology student who is originally from Hong Kong.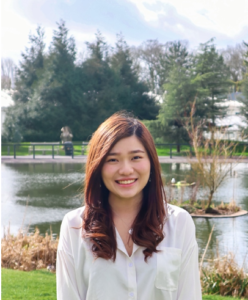 What is the biggest similarity between your hometown/country and Bath/UK?
Both Hong Kong and the UK are cosmopolitan places with cultural diversity.
What do you miss most about your home country? How have you overcome this, was there a positive outcome?
I miss Hong Kong style food the most, especially since there are barely any Hong Kong style dishes available at Bath. To overcome this, I have learnt cooking from online recipes, trying to recreate some of my favourite dishes such as pineapple bun, Hong Kong style French toast etc. In the end, cooking has surprisingly become my hobby!
What's something surprised you about moving to/living in the UK?
I was surprised that the tap water in the UK is hard water, which means it consists of more minerals, contrasting from the soft water from Hong Kong. It is common for people transiting from soft to hard water to experience symptoms like loss of hair and dry skin. Therefore, to overcome such cultural shock, I have bought a filtering jug for my drinking water.
What are your top three things to do in Bath?
My favourite thing to do in Bath is definitely café hopping. There are many cute cafes with relaxing atmosphere. I love spending an afternoon with a cup of coffee reading or working with my friends. Other than that, Bath is such a beautiful and historical place, I would highly recommend the skyline walk to admire the spectacular sunset and panorama view of Bath. I would finally also suggest going on a picnic with a bunch of friends at Royal Crescent, the iconic tourist place. Relaxing under the sun and enjoying delicious food in summer is one of the best things to do!
Are you part of any clubs/societies at Uni or in Bath?
I am part of the Hong Kong Public Affairs and Social Services Society. It is a close-knitted community where I have met many of my friends. It also provides opportunity to join scholarly activities and volunteering to increase public affairs awareness and engagement in the community.
What do you love most about living in Bath?
I love the relaxing and slow-paced lifestyle in Bath. Although it is such a historical tourist hotspot, it does not lose its beauty and purity. The honey-coloured limestone buildings and the surrounding greens perfectly complement each other, making it perfect for exploring the nature.
What's your favourite place to eat/favourite takeaway in Bath?
My favourite place to dine in is Clayton's Kitchen! Their dishes, especially the grilled fish is mouth-watering and delicious. It is a perfect place to have a nice meal with your friends.
What's the best or worst thing you've eaten since being in the UK?
The best thing I've had is the GROM pistachio gelato bought from Waitrose. It tastes very nutty and rich but not too sweet. It is surely my comfort food! If you have never tried it, I highly recommend you to.
Is there somewhere in Bath/UK that you'd like to go but haven't been yet?
There are many places I would like to explore in the UK. I really want to go to the Lake District and Isle of Wight to admire the beaches and seafront promenades one day!
What's your favourite or weirdest UK tradition you have learnt about?
It is amazing how the British get so excited about Christmas! Although it is celebrated in Hong Kong as well, other festivals like Chinese New Year seem to be more heavily celebrated. It is funny how after Halloween, stores begin to put up Christmas decorations immediately and everyone begins to feel the Christmas spirit. Being submerged into this strong jolly and festive mood, Christmas has now become my favourite season too!
What's your favourite British slang/word?
It is definitely difficult to choose my favourite British slang/word but I think I seem to use "fairs" the most often.
What's your top tip for International Students?
My top tip will be to go ahead and make more friends, and expose yourself to different cultures to broaden your horizon. University is the perfect time to make friends from different parts of the world and have the best time! Although there may be times when things get difficult, remember you have been very brave to leave your hometown and to start a new life in a whole new city! Give yourself a pat on the shoulder and be proud of how hard you've been trying already. Everything will eventually be sorted out and you will soon find yourself settled down in Bath, this beautiful city with a bunch of friends!