Many of our students stayed in Bath over the vacation and took part in activities run as part of the Winter at Bath programme. For some it was their first experience of Christmas in the UK. Harshitha Ganigara Suresh, who is doing a MSc in Management, was one such student. Read below about some of the things she did over the festive season:
Nestled in the rolling hills of the English countryside, Bath is a city that exudes charm and history at every turn. With its stunning Georgian architecture, world-renowned Roman baths, and thriving arts and culture scene, this picturesque city always has something new to discover. As a student at the University of Bath, I have had the opportunity to experience all this city has to offer during the winter months. It truly is a magical time of year.
During the winter, Bath comes alive with festive events and activities. One of the highlights for me was the Bath Christmas Market, which took place over two weeks in November and December. With over 170 chalets offering festive goods and foods throughout the city centre, it was the perfect place to get into the holiday spirit. I loved browsing the stalls and finding unique gifts for my mom and dad, whose birthday is in January, and indulging in some delicious festive treats.
The Christmas party at the School of Management marked the beginning of our vacation, which was so much fun. I will never forget the surprise of receiving tea bags from my secret Santa, even though I'm not a tea lover. It was all in good fun, and we had a great time celebrating with our fellow students.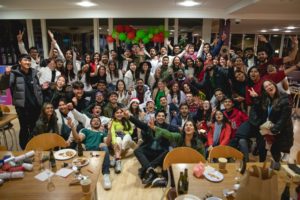 Another highlight was ice skating at Bath on Ice. Located in the city's heart, this outdoor ice rink was a fun and different way to spend an evening. My friends and I had a great time skating around. Despite a few spills and falls, it was such a fun and different way to spend an evening, and the festive Alpine Bar was the perfect place to warm up afterwards with yummiest luxury hot chocolate and food.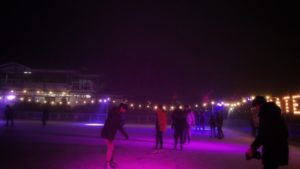 My friends and I wanted to do something out of the ordinary, so we went to the Glow Golf course next to the ice rink, and it didn't disappoint us. Fairy lights hung from the trees and bushes around the Adventure Golf Course, making it feel like something out of a fairy tale. Navigating the course and competing with my friends for the lowest score was a lot of fun. You didn't need any experience to join in on the fun.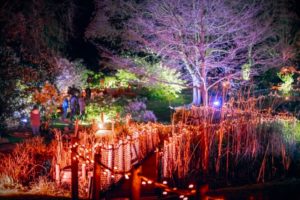 Of course, the winter season isn't complete without a trip to the Roman Baths. These ancient Roman Baths are a marvel; it was incredibly atmospheric to be there just as it was getting dark. The University's Winter at Bath sponsored tickets for its students, so it was an excellent opportunity to visit this iconic attraction at a discounted price.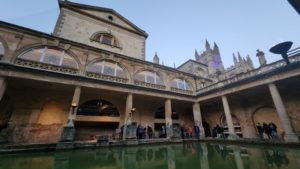 Lastly, I had the opportunity to experience The Enchanted Garden of Light at the American Museum & Gardens, the tickets were paid for by Winter at Bath, to experience the beauty of gardens. This beautiful trail of illuminations transported me into a magical after-dark adventure. The entire house, gardens, and woodland were emblazoned in seasonal colours, and sparkling reindeer guided me. I kept warm under the stars with hot spiced apple drinks, and seasonal mulled wine and feasted on a banquet of delicious treats like homemade mince pies and roasted chestnuts. It was indeed a world of enchantment and good cheer despite having rain in between.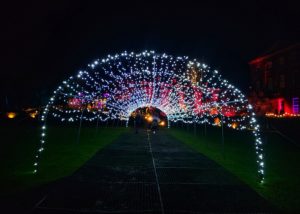 While we had planned to go on hikes throughout the month, the rain, unfortunately, kept us from doing so. However, we were still able to make it out for a walk to Bath Skyline, even if we were only able to visit Sham Castle before turning back. Despite the rain, we still made the most of our winter in Bath and had an incredible time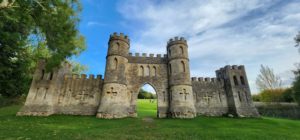 In summary, my time spent as a student in Bath during the winter was nothing short of a magical experience. It was a memorable holiday season filled with adventures in a city full of holiday cheer. I appreciate that I enjoyed everything Bath offers during this magical time of year. I'm excited about what the future holds.