Job hunting and starting a new job are  nerve wracking at the best of times however if you have a disability, health or mental condition the process can be ever scarier. Whether you are worried about disclosure, job hunting or exploring adjustments - The Careers Service and the Disability Advice team are here to help. Next week our Enable Careers Programme kicks off with a webinar on whether you should disclose your disability.
We are hoping to blog on a wide range of topics to support our disabled students job hunting. In our first blog post, I wanted to draw attention to organisations and schemes providing assistance for disabled people in entering employment.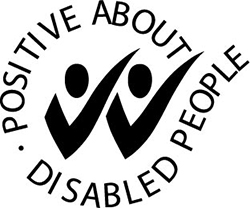 Any employer can sign up to this initiative. Displaying the Two Ticks symbol recruiters demonstrate a commitment to meeting the needs of disabled employees. Being part of this scheme means that employers must  interview all disabled applicants who meet the minimum entry requirements and ensure that if hired disabled people have an appropriate working environment for them.  You can find out if the employer is part of the scheme by visiting their website.
Government run scheme which provides practical and financial support for people with disabilities or long term physical or mental health conditions. Access to Work can help pay for support in the work place including aids and equipment, money towards travel cost if you cannot use public transport and even provide an interpreter or other support at interview. The scheme also ensures that reasonable adjustments are made. This may include additional time to compete tasks, flexible working patterns or a phased return to work in needed
Organisation working with disabled people and employers to achieve equality and inclusion. Their employment services aim to provide solutions and support for disabled people in order to fulfill their work aspirations. They create work tasters, work placements and voluntary opportunities for disabled people to build skills. They can also provide support making Access to Work applications.
Careers events and job opportunities for disabled students and graduates.
National charity provides information on how to be mentally healthy at work.
Provides an internship and professional development programme for talented students and recent graduates with disabilities, through Change 100.
National charity which helps disabled people into work, gain skills and take control of their future. Once a referral  has been made the charity can provides careers advice and support to job seekers as well as financial guidance if needed.
Provides those with autism a support service and assistance finding work. One to one mentoring aimed at  assisting those with autism gain time management skills and an ability to  prioritise and structure workload. The society  can also provide assistance in developing social skills, strategies to manage anxiety and job seeking.
Further information is available on the Careers Service website. You may also want to look at the advice on TargetJobs.