Disability Rights UK have put together a handy guide for students on how you tell people about your disability. However we understand that disclosing your disability to an employer is a cause for concern for many of our students. It is worth knowing that if you have a disability you are protected by the Equality Act 2010 which states that employers must not treat an applicant less favorably because of their disability.  The act also means that applicants can decide whether or not to disclose a disability on application for a job*.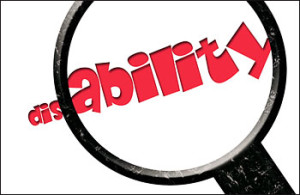 The Careers Service is hosting a webinar on Wednesday, 18th February  from 1-1.45pm.  This session will provide an opportunity for participants to consider the pro's and con's of disclosing a disability to an employer. We will also discuss the different stages of the selection process and provide guidance on when to disclose. The session will conclude with tips and advice so you feel confident discussing your disability. To sign up for webinar, please book through MyFuture. 
You may also wish to view this excellent video on disclosure which provides an employers perspective on how they view disabled applicants and employees.
*The exception to this where you must disclose is if  the job will involve putting you in situations where your disability could present a risk to the health and safety of you or your colleagues.