For a number of our students thoughts have turned to finding a summer internship and we thought we would pull together helpful websites to kick start your internship applications.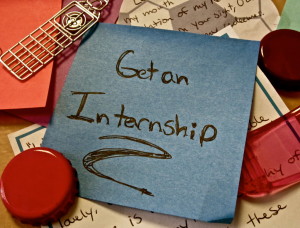 ---
General sites
CareerPlayer - Search graduate internships by industry and location. Most of the opportunities listed on the website are in banking, finance, management, and consultancy. CareerPlayer also claims to have the largest independent career video library, and the most comprehensive career event listings to help graduates explore their career options.
Employ Ability  - Employ Ability are a dedicated service assisting students and graduates with disabilities, including dyslexia or long term health conditions, into employment. They have worked with many leading blue-chip as well as public sector organisations and there are a wide variety of internships with large multinationals and SME's.
Enternships - lists internships and opportunities for graduates with ambitious start-ups and small businesses in over 20 countries. You can refine your search by start date, industry, location or compensation.  Companies such as Groupon, PayPal and celebrities like James Caan and Peter Jones of Dragons Den have used Enternships to find graduate talent in the past.
Give A Grad A Go - Search for paid work placements in Design, IT, Media & Arts, Sales, Banking & Finance. According to the website most work placements last between 1-3 months, with many paid internships.
Graduate talent pool - Graduate Talent Pool is a partnership between government and employers, designed to help UK graduates looking for work placements. The internships are based primarily in England, and you can search for opportunities by career sector and region.
Inspiring Interns - Inspiring Interns aims to match graduates with businesses, and recruits interns all year round. Most opportunities are in London and the UK, and you can search by industry sector. You can upload your existing CV, or make a video CV for employers to browse on the website.
STEP - Step Graduate offers paid work placements in the UK, and the programme is supported by the government through the Department for Business and Skills. Typically placements last between 2-3 months, and the website boasts lots of success stories of candidates being offered permanent positions at the end of their placements.
Student Ladder - fantastic website where you can search for opportunities by year of study and industry sector.
Wexo - Wexo lists internships and job opportunities for students and graduates with companies in the UK. You can create a profile and browse job listings for free, however to access all other content such as CV guidance, and to apply for roles there is a one off membership fee of £10.
 Sector Specific Opportunities
Charity
Charityworks - is a unique partnership initiative between 20 charitable organisations. The graduate development programme offers graduates the opportunity to work in charities for one year, and to develop the skills they need to work in the sector.
Engineering
Gradcracker -  Gradcracker only lists paid work placements for Engineering and Technology students. Browse hundreds of placements with over 48 companies, and refine your search by discipline or work sector.
Finance & Banking
 eFinancial Careers - Worldwide opportunities for graduates interested in Investment Banking and Financial Services. Search internships and graduate trainee roles, and filter results by location, sector or keywords.
 Media and Broadcasting
Broadcast Graduate - The website is aimed at recent graduates and students to help them discover internships, job opportunities and graduate schemes in the broadcast and media industries. Employers on the site include BBC, 4 Talent, Bloomberg etc.
Science
New Scientist -  Quite a comprehensive list of internship opportunities in science, charities, and abroad. The deadlines for many of the internships will have passed already but the list gives you an idea of the kinds of places that take on interns in science-related posts, and when they tend to advertise for them.
 Teaching
TDA School Experience Programme – You can apply for the SEP if you are considering teaching maths, physics, chemistry or a modern foreign language at secondary level and hold a 1st, 2:1 or 2:2 degree. The placements can last up to 10 days, but are flexible. You will observe lessons, talk to teachers about day-to-day school life and you might have the opportunity to plan and deliver part of a lesson.
 Law
Target Jobs -  section lists work experience and vacation schemes in the field of law. Filter results by upcoming deadlines, employer name or region.
Enjoy and have a fun weekend browsing internship opportunities! If you need help with any aspect of the application process please book a quick query with a careers adviser.