A few days back, I did a practice interview via Skype with a client, all was going well except I was rather distracted by a less than professional poster on the clients wall and that the candidate was wearing what looked like a dressing gown and PJ's! Truth is that a significant number of recruiters are harnessing technology such as Skype, bringing the job  interview into your personal space. So it is important to treat a Skype interview just like a REAL interview (minus the firm handshake).
The reason why employers are using technology: well, it speeds up the application process and is also cost effective. While technology has many advantages, it also being many perils especially if you are the job applicant. So, below are my top tips to ace a Skype  interview: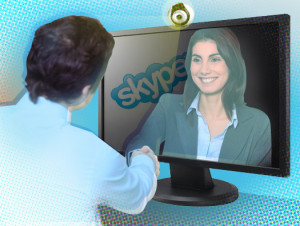 If you haven't used Skype before, do a test run! Make sure you are all set up and that your Skype name is professional. Consider a practice interview with one of our Careers Advisers.
Make sure you have a suitable background behind you. Something plain normally works best as it's less distracting for your interviewer. Please make sure there are no dodgy posters behind you...!
Make sure there is good lighting and that your microphone and webcam is working! You also want a decent internet connection too!
Make eye contact, smile and pace your speech - don't talk over the interviewer and do check that they can hear you.
Let your personality shine through - sit up straight and demonstrate enthusiasm for the role, consider changing the pace and pitch of your speech.
For more tips check out this excellent article from the Guardian and Bloomberg.