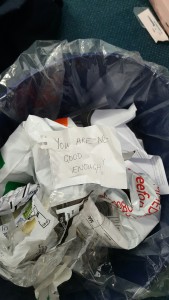 During the summer I was privileged to hear the author and careers coach John Lees give a talk on surviving change to a conference of Higher Education careers staff. He is someone who I have admired for the simple truth he brings to the challenging issue of job hunting. His book How to Get a Job You'll Love is a great read for anyone who is unsure which direction they want to take in their career. We have a copy in the Careers Service if you want to try before you buy. I liked some of his observations and suggestions for coping because they are useful to many of you who are starting your job hunting for placements, summer work and graduate jobs.
John Lees began his talk with reference to Imposter Syndrome. This is a label that is used to describe the feeling that very soon someone will discover that you are a fake. It is common in high achievers and I hear this feeling acknowledged by Bath students.  Thinking negatively is pretty normal for us human beings.  In early times we would be constantly looking for danger so it is an instinct we have.  Unfortunately this kind of thinking can be a great barrier to us moving forward and achieving success. Lees reminded us that people, on the whole, have an unreal view of how good/successful other people are so we need to recognise we may not be the best judge of how we compare to others. Lees advice, when faced with this kind of negative thinking, is to postpone worry. If you want to worry about something make a note in your diary to do it at 5 pm on Tuesday. The likelihood is that by then it will seem trivial.
I talk to many students who express lack of confidence or fear failure both at the start and during this process of making and executing career decisions. This can really hold them back. They tell me they are not as good as other students on their course or worry about how they compare to graduates from more prestigious (to them) universities like Oxford.  Many of us worry about is the "what ifs" in life. We worry about how we will deal with a potential dilemma which might crop up at some point in the future even before we have started anything. These kinds of negative thoughts are great at making us procrastinate and getting on with the task in hand. It's a good idea to think about whether some of these worries are stopping you from beginning your job hunting.
Lees describes making progress in your career planning by "small step thinking". He claims we very often keep thinking in circles: moving too quickly to making decisions before we have done the proper research and also not recognising the decisions we have already made. He suggests we imagine we are being paid by someone to research the most suitable jobs for ourselves. This approach will make you us do a more thorough job and be more analytical.
Sometimes we are trapped by things that have gone wrong in the past and we keep rerunning it through your mind so it traps us into taking no action. Lees recommends allowing yourself to review things that have gone wrong only once and then move on. To reinforce this I have just read this comment from a Bath graduate who joined Teach First:
" … at the end of the day, you find out that you will make mistakes all the time, every lesson, you just got to learn from it, get over it, move onto the next lesson and take it as it comes. It's important to remember that even those teachers who have been teaching for 30 years aren't perfect and are learning things every day. You're always learning and you'll always make mistakes but it's how you deal with those mistakes that counts."
Pretty sound advice I think.
Another powerful tool Lees suggests we use is the one used by Sports Psychologists. Running the movie through your head of you crossing the finishing line in front of the rest of the field is as powerful as the lived experience. So if you have an interview coming up imagine yourself confident and well prepared going into the interview room  and dealing successfully with the questions thrown at you. Another source of inspiration is this TEDx talk by Amy Cuddy where she shows her research into how your body language shapes who you are.  This is inspiring advice for job interview preparation and I heartily recommend watching it. She talks about her own experience of Imposter Syndrome.
When I am giving feedback on a CV to a student they are usually most uncomfortable about the whole thing of "selling themselves". We go back to the Imposter Syndrome! Promoting yourself to an employer is especially difficult because you need to strike a balance between showing your abilities while at the same time not faking your talent. Lees believes that reality TV has forced extrovert behaviour into the norm and so this is the measure that people are using when judging how they should show an employer what they can do. I particularly liked the way Lees presented his idea of self-projection for the modest. When talking about yourself he suggests using these three statements in relation to yourself to demonstrate who you are, what you can do and where you are going:
I really enjoy…….

I would like to find out more about……

This is what I have discovered …………
You just need to fill in the blanks. This is a great way of constructing a response to that classic interview question: "Tell me about yourself".
There was much more I could tell you from John Lees talk but perhaps I need to save it for another day. Meanwhile if any of the above resonates with you and you want to discuss your worries or concerns please book an appointment with a Careers Adviser. Don't keep it to yourself.