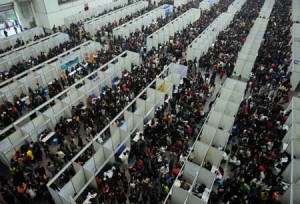 ---
This image is from China Daily of a Job Fair in Beijing. Whilst we aren't expecting quite such a crowd at the Autumn Careers Fair this week;  you may want to spare a thought for the representatives from various companies who get asked the same questions, are giving out the same information and by the end of the day they may not even have had their lunch.
So, how can you make a positive impact and also come away with relevant information to help you progress your job hunt? (instead of being told to look at the website). Well, its all down to you! You set the agenda and by asking insightful questions that go beyond the superficial and obvious - you can easily gather helpful information whilst establishing a strong relationship with company representatives.
So what questions should you avoid:
What does your company do?
How much can I expect to earn?
Why should I apply?
What can you offer me?
Can I have the free toy / pen / teddy / chocolate bar (etc)? (and then walk away!)
Instead ask these questions:
Job Satisfaction and Motivation: What do you enjoy most / least about your job? How much of the subject knowledge you gained from your degree do you use on a daily basis at work? What is the most satisfying aspect of the job?
Details of the work: Can you describe some actual examples of the sort of activities that your job involves? If you could change one thing about your job, what would it be? What skills do you use most often?
Career progression & development: What is the typical career progression in this field? How has the job changed in the time you've been doing it? How do you see this job developing in the future?
Organisation culture & environment: How would you describe the organisation culture? How is the culture at x different from its competitors? In what way is performance measured at x?
The sector: How is the industry changing? What are likely to be growth areas over the next few years? What threats does your business face?
What else?
Well, consider asking similar questions to a number of organisations this way, you can compare and contrast the responses and make an informed decision about who to apply to. Take a notebook, jot down key points and the names of individuals you have spoken to. When it comes to applying you can name-drop the people you spoke to and draw on any insider information to help convey your motivation.
Finally, dress to impress and make sure you take copies of your CV just in-case!