Competency based questions are those that require you to answer with one particular example, such as:
Please give an example of a time when you demonstrated leadership capability.
Tell us of a time when you actively contributed to the success of a team.
Describe a time when you communicated effectively in a difficult situation?
The "competency" in competency based questions refers to a skill or personal attribute that an employer wishes to have (indicated in italics above). Most employers will provide information about the competencies they look for in the job advert or person specification. This makes it easy for you to consider and prepare relevant answers in advance.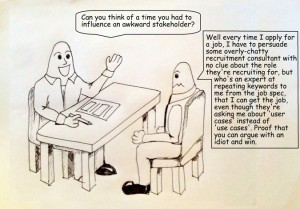 Below are two examples of answers to the question "Describe a time when you communicated effectively in a difficult situation?". Which candidate would you score higher?
Candidate A

During my summer holidays, I needed to earn extra money to fund my studies. I took a role at JKN holidays. The company runs a leading seaside resort with a range of activities on offer such as water skiing and snorkeling. It was recently awarded Best UK resort in the South West. We regularly had bucket loads of people from across the world visiting us that we needed to deal with. Many didn't speak English which was really difficult. When this happened, I would always do my best to communicate clearly with them. Having worked with people from around the world on a regular basis, I was used to the issues and difficulties that arose. In these situation, I think it is important to speak slowly.

Candidate B

While working as a holiday rep at JKN holidays, we received 80 overseas visitors during one of my shifts. I had to communicate the sign-in process and had to allocate rooms. My first action was to find the tour leader and I established she spoke a little English. She agreed to translate. I stood on a box so that the whole group could see me. I smiled and made eye contact with everyone and ensured my language was simple and clear. I also paused to enable the tour leader to translate. I used props to aid understanding. For example, I indicated where the visitors should sign forms by holding up the form and pointing. I also showed the visitors how the locker keys system worked through a practical demonstration. As a result of my flexibility and effective communication, all our visitors completed the sign in procedure and were allocated rooms within our normal sign in target time.
How to answer competency based questions
STAR is a useful technique for answering competency based questions. It guides you step-by-step helping you to provide well-structured answers.
Situation: Briefly set the scene. What context do they need to know in order to understand the rest of your answer. Keep it short, no more than 10% of your answer.
Task: describe briefly what you had to do, roughly 10% of your answer.
Action: what you did and how you did it. Your answer should focus specifically on how you demonstrated the competency they asked about. The action is what helps the recruiter understand what you can do for them. So make this around 70% of your answer.
Result: a positive result shows that you used the skill or attribute successfully. What happened, changed or got better as a result. Make this around 10% of your answer.
Some employers are moving away from competency questions and are adopting strength based interviews. So do make sure you are clear on the interviewing style adopted by your future employer.
Do check in tomorrow when we will share tips on how to answer Brain Teaser questions and also how to handle tricky questions such as what are your weaknesses. Don't forget to book a practice interview with our careers adviser!