This week representatives from 195 countries are attending the Paris Climate Summit along with 138 leaders including US president Barack Obama, China's Xi Jinping, India's prime minister Narendra Modi and the UK's David Cameron. The objective of the summit is for all nations to reach a new global deal on cutting carbon emissions beyond 2020 (when current commitments on greenhouse gas emissions run out). World leaders will also agree on financing to help poorer countries cope with climate change. Scientists have warned that if greenhouse gas emissions continue to rise, we will pass the threshold beyond which global warming becomes catastrophic and irreversible.  Whatever the outcome, the long-term decisions that governments and business take because of the deal in Paris will have a far reaching impact from which power plants provide our energy, to what food we eat.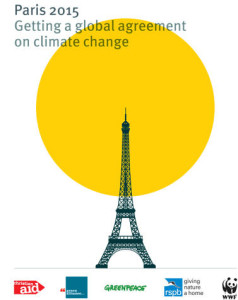 Whatever your view about Climate Change, there's no denying, the Green Economy is growing and potentially presents some of the most dynamic career opportunities. Yet my gut feeling is that many students are simply not aware of the wide range of roles available. Another important factor to consider is the evolving and rapidly changing nature of the sector which means; new jobs are being created daily with new skills sought by employers that you may not have considered.
Where do you start? According to the UK governments 'Skills for a Green Economy' report, growth can be expected in the following areas:
Low carbon and renewable energy: There are significant employment opportunities. For example, the offshore wind supply chain will
need up to 70,000 more workers by 2020, from planning and development professionals through engineers and technicians to legal and financial specialists and admin and IT staff.
Low carbon vehicles: the recent Volkswagen car emission scandal brought home the need for innovation in the automotive industry. Specialist skills are needed to develop and design advanced new materials and components and to maintain new vehicles. Management skills will be needed to oversee and embed these developments and to improve overall efficiency and sustainability. There is also a need for specialist skill sets in, for example, alternative fuels distribution; and hybrid/electric vehicles.
Sustainable and secure food: last night I was watching Country File where a European trial to feed pigs and chicken maggots instead of soya was featured. The programme emphasized the need to find additional sources of protein for animal feed, which  is driven by the increasing global population and the rising demand for meat.
Sustainable building & construction: new government regulations expected to come into effect in 2016 will require all new homes built in the country to be zero carbon. The same regulation is due to apply to all new non-domestic buildings – including offices – by 2019. New skills are needed for: environmental legislation targets; ecosystem services design and management; designing and managing multifunctional spaces; land use planning and
development planning; carbon and water footprinting etc.
That's not all, we can expect to see a increase opportunities for staff with 'light green' skills such as HR and recruitment specialists, lecturers, finance and marketing professionals. To get you started, explore the careers resources on the University of Oxford's website which covers Energy and Environment. You can also access the Environment 2012 directory, which you can use to research organisations in the UK and globally. For inspiration, do consider reading National Geographic's 11 of the fastest growing green jobs.