The first of our career stories from researchers now working in roles outside of research in Higher Education.
Dr Helen Featherstone - from science communication to public engagement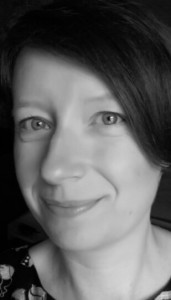 What is your current role?
I'm the joint Head of Public Engagement at the University of Bath. I job share with Dr Joanna Coleman. We head the Public Engagement Unit which supports Bath's culture of public engagement with research.
Give a brief overview of your career history to date, and any steps you feel were important to you
I've gone from being a science communicator to working with others to develop their engagement skills and more recently developing strategic support for public engagement with research. During that time, I also did my PhD.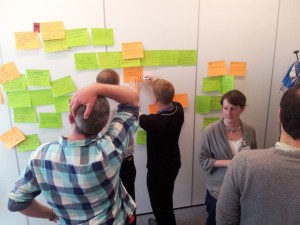 I work with researchers to help them make sense of public engagement
I got into this sector a couple of years after graduating from my BSc. I attended Edinburgh International Science Festival and realised that there was the possibility of getting paid to have fun with science. I did an MSc in Science Communication in Cardiff which opened up a whole new world to me. I stayed largely in the interactive/science centre field, but also have interests in creativity and collaboration in public engagement.
Roles that I've had over the years include: Project Manager, Education Manager (Public Programmes), and Content and Visitor Researcher alongside a really wide range of voluntary and freelance positions. Whilst working in science centres I've done so many different things: developing content for interactive exhibits, undertaking audience research to inform exhibit development, writing proposals, evaluating activities, running training courses, and delivering science demonstration and planetarium shows. All this involves working with researchers and a wide variety of creatives such as designers, theatre producers, illustrators, animators… It's a fascinating sector to be in – no two days are the same.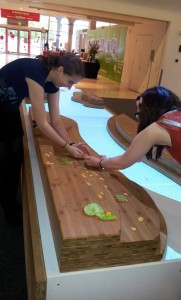 I've spent many years making interactive exhibits
I've always had a strong interest in "the public" in public engagement: who are they, why do they get involved and what do they take from the experiences? The opportunity to do a PhD to explore this is in more detail was too good an opportunity to miss. It was also based with one of the key research groups in the country which helped in making the move from working full time (with the associated salary) to researching full time (with the associated bursary).
Throughout my career I've taken on relevant voluntary roles from being secretary of the local branch of the British Science Association to Chair of the Visitor Studies Group and more recently being a mentor on the Public Engagement Academy. These have provided me with opportunities to develop skills and experience beyond those of the day job which has been critical for me.
 How did you decide what you wanted to do after your PhD?
It was more circumstances and opportunity rather than a deliberate choice. I was working on both research and practice (in two different institutions) when I finished. I enjoyed both environments and also realised that I was spending more and more time working with others to develop their public engagement. When both contracts ended at a similar time it coincided with me applying for my role at University of Exeter where I led the RCUK Catalyst Project*. This meant I got to continue working with others, be in a university and also still be involved with the practical aspects of public Engagement.
*The Public Engagement Unit at Bath was formed because Bath also secured RCUK funding through the same scheme.
How do you use the skills from your PhD in your current role?
I use the concepts from my PhD on an almost daily basis – which is really satisfying. In reality though, it's my combination of research and practice that is essential for my current role. Research experience means I have some understanding of the working life of the academics I work with whilst also being able to help them with really solid, practical advice on their public engagement activities.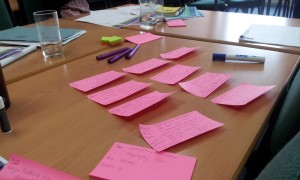 I couldn't do my work without post-it notes!
What advice would you give to researchers interested in working in similar roles?
Understand the communities you work with both within the university and beyond – spend some serious time outside of the university. The ability to operate credibly with everyone you meet is essential to being in this role. Being something of an outsider helps too.
My MSc was a critical starting point for me and is something that is essential as part of a science communication / public engagement career. Entry level jobs may not specify having a post-graduate course, but many of the applicants will have an MSc. Getting into the field without a post-graduate certificate is possible, but practical experience alone may hinder career progression within the sector. It's worth thinking about if / when to do a post-graduate course if you're considering a career in science communication.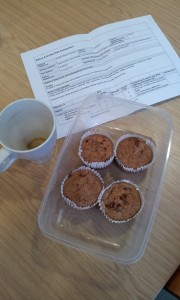 Drinking tea and eating cake are key skills for this role!
Resources
National Coordinating Centre for Public Engagement
Careers Service Guide to Science Alternatives - information and advice on non lab-based roles for scientists
Getting into science communication - excellent blog post from the University of Leeds Careers Service
psci.com - jisc mail list for science communicators. Used for discussions, sharing ideas, promoting events and advertising work experience, competitions and vacancies.