---
I remember when I first put on those Virtual Reality (VR) headsets, it blew me away! Just to clarify, I am not a gamer at all, the closest I have come to playing a game has been playing free games on my phone! I am, however, a massive sci-fi fan so the idea of being immersed into a virtual universe did appeal to me. Maybe it was this interest that made the journey into the VR universe so natural for me. Saying that, recent research states that 95% of people trying out VR say the same. It seems so real that you automatically act the way you would have done in the real world. Maybe this fact is why employers now are researching using VR in recruitment processes and at least one employer is already using it in some assessment centres. So what do you, as students, need to know?
What is Virtual Reality?
Virtual Reality typically refers to computer technologies that use software to generate the realistic images, sounds and other sensations that replicate a real environment (or create an imaginary setting), and simulate a user's physical presence in this environment (taken from wikipedia).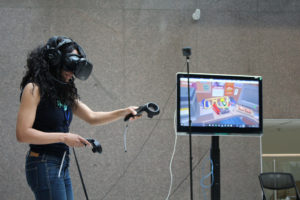 For Virtual Reality to work you put on a headset which covers your eyes and ears completely, you are unable to see or hear the outside world. You only see the simulated environment in front of you. With the help of handsets you are able to move around the environment and complete tasks. You have a small space to move around in and the software prevents you from walking too far outside the zone (don't worry, the likelihood of crashing into walls is low). It is currently mainly used for gaming as it gives the user the feeling of being fully immersed in the game.
Why are more and more employers researching the use of VR in recruitment processes?
Employers would like to be able assess a candidate's authentic capabilities in doing the job. Compared to competency-based questions, where a candidate can prepare answers which not necessarily are all authentic, the VR environment is unexpected and can't be prepared for. As research shows that the large majority of people trying out VR acts like they would do in real life, this means that employers can easier match the candidate skills and strengths with the job in question.
Employers are also researching using VR as a way for applicants to get a real feel for a company, how it is to work there, which goes beyond just looking at the website or the interview setting.  Companies would like to show their prospective employees how great it is to work there and VR may help with just that. VR can introduce you to the office, you may get a tour of the building,  meet your co-workers, be introduced to job tasks and real-life business scenarios. You may even be invited to an after work social event through VR! In an article Deutsche Bahn states they use VR to give potential employees the chance to "experience" different jobs on offer before they apply, for example looking over the shoulder of an electrician or a train driver.
It is already in use!
As stated above, several companies are using VR as a way of introducing their companies to potential applicants. In addition, VR in recruitment is already in use by at least one graduate recruiter, which started using VR in their assessment centre selection for their IT and digital graduate schemes in autumn 2017.
They says this on their website:
"By using Virtual Reality the assessor will be able to present situations to candidates that would otherwise be unfeasible in the conventional assessment process. The candidate will have complete freedom of movement within a 360 degree virtual world and will be able to move virtual objects using tracked motion controls. Although the Group cannot disclose what potential graduates can expect to do in the assessment centre, so as to not provide candidates with an advantage, the puzzles they will be tasked with will be designed to demonstrate the strengths and capabilities required of the Group's future leaders."
In addition, other companies are considering using VR in their recruitment to better assess candidates' strengths and cognitive abilities. Although we do not know whether VR will be used by other companies, its popularity is increasing and therefore more may follow..
How can you prepare for VR?
I think it would be hard to prepare for a VR assessment. The employer won't assume you have used it before, so you should get good instructions in how to use it before you start your tasks. As the employer would like to find a candidate that matches the skills and strengths they are looking for, I believe the best preparation is to be yourself and complete the tasks as you would do naturally. If you have a friend that has VR at home, then you can always ask them for a go, although be aware that the tasks set in the assessment centre probably will be different from VR gaming.
Be open and enthusiastic about it on the day, be yourself and enjoy the experience!
Additional articles for you to explore:
University of Warwick has written an excellent blog article about Virtual Reality.
Two other interesting articles:
https://www.cornerstoneondemand.com/rework/latest-recruiting-tool-virtual-reality
http://www.wired.co.uk/article/vr-interviews-lloyds-banking