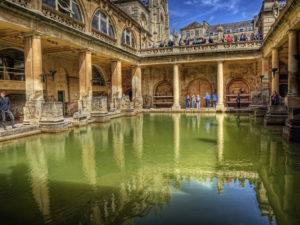 ---
This blog entry is a part of the Graduate Fair Blog Series introducing sectors and industries which will be present at the University of Bath Graduate Fair, Tuesday 25th April. Please go here for more information about the fair and the employers present.
---
So you are graduating soon and you want to stay in the local area, great! There may be many reasons for this, perhaps you are from here or have established family here? Perhaps you love the area so much you would like to stay (like I did 10 years ago)?  Whatever reason, Bath, Bristol and the rest of the South West are lovely places to live and work.
The disadvantages by looking in one region only
Be aware that looking in one region only may limit your job opportunities. In some towns and cities certain industries dominate, while others are under-represented. Limiting yourself geographically may not match with your particular career choices so you need to do your research. Ask yourself how long you are willing to commute? Bath and Bristol are commutable, but you may also want to consider towns like Cheltenham, Swindon and Reading or Newport in Wales. Work out how you will get to work, the costs and how far you are prepared to travel so you can look beyond the immediate locality.
Employers in the Bath area
Bath is not a big city so it is limited in terms of which sectors/industries are located here. The biggest employers in Bath are in the education and health sectors, i.e. the two Universities and the NHS. A wealth of software development firms base themselves in Bath and several internationally recognised architectural and engineering consultancies are found in Bath (source: Bath and North East Somerset Council). See our graduate jobs leaflet for more details on companies and organisations in Bath.
Major Industries in the South West
The major specialisms/growth areas in the SW:
Advanced Engineering which includes Aerospace (Bristol), Automotive (Swindon), measuring instruments and medical devices (Gloucestershire)
Biomedical and Healthcare (Bristol/Bath and Exeter/Plymouth)
Creative Industries (Bristol, Gloucestershire and Plymouth areas)
Environmental Technologies
Food and Drink (Devon, Cornwall, Somerset and Dorset)
Information Communication Technology (Gloucestershire, Wiltshire, Bristol, Devon)
Leisure and Tourism
Marine (Devon, Cornwall and Dorset)
Source: www.gradsouthwest.com which includes more details about these sectors.
---
Gradsouthwest will be at the graduate fair, do go and ask them any question you may have about staying in the South West! In addition, CIMPA, Decision Analysis Services, Sword Apak and Rise Technical Recruitment have roles in Bristol and London and Country Mortgages has roles in Bath!  Research these employers and the roles they can offer in our Graduate Fair programme.
---
How to find local work as a graduate?
First, you should make a list of employers that you are interested in.
Find out what employers exist in the area that are in the sectors or industries you would like to work in. Our Find a Graduate job leaflet has some great tips for you:
Monitor local job adverts – senior posts will still alert you to potential employers
Ask local people which companies they know
Tap into local networks of relevant professional bodies or looking for local business groups
Look for news items, articles and annual reports in local newspapers and business magazines for potential job growth, e.g. new factories/offices, new product/service launches, organisations relocating, takeovers etc.
Keep your eyes open for businesses of interest
Building local contacts from your own recreational activities.
You can also find A-Z lists of employers that have been in contact with us on our website.
What are the typical job websites?
You are able to search for local jobs in MyFuture, but be aware that there will be many more jobs available that are not advertised on MyFuture. Bath Chronicle advertises jobs in the Bath area, Bristol Evening Post in the Bristol area. Duport business confidence reports details business performance trends in the city. There are many more local job sites for you to try, please go here for a comprehensive list.
Contacting employers speculatively
As you know, most jobs are not advertised! Therefore, you should be flexible and creative in your approach to employers. Can you apply speculatively? Use LinkedIn in your job search? Get ideas from friends and other contacts? Our Find a Graduate Job leaflet gives you an insight in to different strategies in job hunting.
What else is there to say but the best of luck in your search and maybe I will see you for lunch in Bath or Bristol soon!