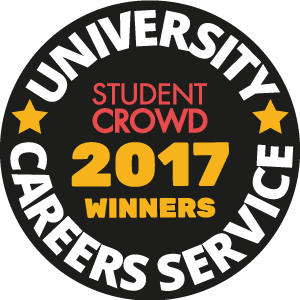 We got excited in the Careers Service this week, as at our busiest time of year we were rewarded by a Top 10 place in the Student Crowd 2017 "Best Universities for Careers Services".  You can see the full list of winners here: https://www.studentcrowd.com/article/20-best-universities-for-career-services-2017
Over 7000 students were invited to review their University Careers Service, and it's great to know we are appreciated.  One of our favourite lines in the reviews was: "The careers services seem to be relentless which is exactly what you want!" Yes, we know it could sound negative to be "relentless", but we just don't want you to miss out on great opportunities to build your skills, meet employers, find great job and internship opportunities, and so on.
We aim to keep up the good work, so this Semester is packed with new services and events, all as a response to valuable student feedback. We've got more 1:1 appointments for CV feedback through a new Applications Advice service, more talks on different occupations such as teaching, law and the public sector, and special events to inspire students throughout the year.  We are fully settled into the Virgil Building for most of our 1:1 appointments, though postgraduates and final year undergraduates can access us on campus if they wish to do so.
Want to know more? Follow us on Facebook: https://www.facebook.com/bathunicareers or check out our web site www.bath.ac.uk/careers