Keon Richardson (Sport and Social Sciences graduate 2017) continues with his tips for achieving your best with his own personal strategy for dealing with exam stress (chocolate!) and how he used motivational tapes to keep him on track ..
5.    Create a coping strategy to deal with essay and exam stress!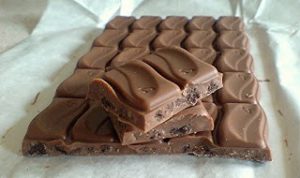 Mmmmm chocolate!
Following on from the wise quote that "Final Year is a marathon not a race", I really recommend that you develop and implement a coping mechanism to deal with those moments where you are in your room at 11 pm panicking whether your all-nighter will be handed in on time or not. Each student deals with stress differently. However, I believe that we have consciously or subconsciously developed a method to counteract the stress that we face within education and everyday life. The options for students to relieve stress are endless: smoking, drinking, partying. The list can go on forever. For me, none of the above was a viable option because of how seriously I took playing Futsal. Futsal training for an hour and a half three times a week allowed me to get away from the books and channel my energy in something that I love. It also prepared me for the day as training was from 7.30am to 9am (except Thursdays). However, after the season finished in a heart-breaking cup loss to Northumbria University, I decided to take a rest from playing to recover from Patellar Tendonitis. Consequently, the only alternative I felt that I had was food. A 114G bar of Galaxy Cookie Crumble was my sacred haven to get away from the fear of completing a 15,000 dissertation in three months, the anxiousness of waiting to find a full-time job in Disability Football Development, and the other stresses in life. The moment that the blocks of soft melted chocolate biscuit swirled in my mouth, all my life fears went numb and I was entrenched in a Tango Dance with the sensation of the Galaxy Cookie Crumble. I would eat chocolate when I was writing essays, when I wanted to get away from my thoughts or when I rewarded myself for working hard (my room was full of Cookie Crumble and other treats especially when I received my Assignment Feedback). Although my chest would be heavy for a few days, it calmed my nerves and gave me comfort in the periods of Final Year where I went into isolation mode to complete my work!
6.    Listening to motivational tapes every morning an every night!
For me personally, I believe this is my KEY point to doing well in academic studies and succeeding in life. As I alluded to in the last tip, chocolate was my instrument to counteract my overthinking. But what really got me through Final Year was listening to motivational tapes.  No matter who you are, at some point during University (particularly in Final Year) you will get tired. Everyone reaches their plateau where they feel that enough is enough. What motivational tapes did for me was that it distracted me from my current situation and elevated me into a positive mindset to get through the day. There are three Motivational Speakers that I listen to: Eric Thomas, Les Brown, and Lisa Nichols; all three are renowned global speakers from the US. Eric Thomas ("WAT UP! WAT UP! WAT UP! IT'S YOUR BOY E.T!") would give me the fuel to do work when I didn't feel like doing it and the desire to push through the moments when I was getting writer's block in my dissertation. He was the go-to-person when I was in the writing mode. I would put on his hour long tapes and let it hit the back of my mind as I was writing. Les Brown and Lisa Nichols are much older folk so they aren't as hyped as Eric Thomas. Their motivation is a lot more soothing and the first thing I played in the morning and would listen to whilst I was falling asleep. This helped block out all the doubts and questioning myself I would usually do while I was tossing and turning in my bed. It gave me the faith that I would graduate, as Les Brown says "faith comes by hearing and hearing; death and life is in the tongue. Watch your words. Watch your thoughts; for they have magnetic powers". Although I do not know them and have not physically seen them, they were mentoring me and developing my psychological strength to get through the workload. I found it helpful to listen to motivational tapes when I first woke up in the morning. Scientifically speaking, your brain operates at a 10.5 wave cycle per second, which is the highest it will operate across the whole day. The first 15-20 minutes you wake up you're in an unconscious mind zone, so why not fill your brain with positive messages? Alongside this, you can write down your short-term and long-term goals! I know that you may have other ways of motivating you to get through challenging times so think on what these are for you .......
Support from Student Services - If you would like to discuss coping with exam and essay stress or struggling with workload, then do have a chat with a Wellbeing Adviser or see information on their website http://www.bath.ac.uk/departments/student-services/