Our final blog in this series of "Tips for achieving your best!" Guest blogger Keon Richardson (Sport and Social Sciences 2107) talks about how getting up early helped to achieve his goals and why he decided to turn down a more exciting social life to reach his goals!
10.    WAKE UP EARLY!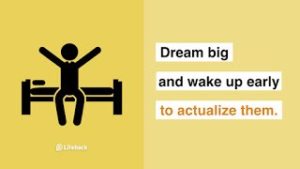 Everyone has their optimal hours of the day when they work best. But as I previously mentioned in Tip Number 6, your brain operates at its highest rate when you first wake up early in the morning. A tip I would suggest to avoid hitting the snooze button is to change your alarm to your favourite song to get you excited to get out of bed! My alarm is DJ Arafat - Tapis Vélo. Another technique that I learned from tearing my groin in Second Year and being sidelined from playing was to treat studying like training. To get to 7.30am training from town, I would wake up at 5.50am (takes me an hour to get ready and 30-40 mins to get to campus). Being on campus at 7.30am is early enough as it is, and my earliest lecture in Final Year was at 10am. So I played a trick where I started waking up at 6am on the days that I didn't have training and started working at 7am in my room. That meant that I already had a three hour head start over my classmates who started at 10am. I took the game one level deeper and started waking up early on the WEEKEND. This was pretty easy as I didn't go out at all during Final Year so I didn't have to burden the pain of attempting to wake up early on Saturday with a Friday Night Hangover. So the key thing is to find out your optimum hours when you work best!
11. Make "No" your Vitamin C!
In order to reach my goals, I found that I had to give up  and ultimately sacrifice certain things by saying "No" to things I would normally say "Yes" to. In First and Second Year, I always used to talk to one of my close friends from school on the phone for 2-3 hours daily. This was mainly because I only did work on the days that I had training and lecturers. So, when I would go home after lecturers, I would phone him, watch shows online or have a nap. In Final Year, I had a different mentality and I knew that my work ethic had to quadruple. I worked everywhere that I could. On the 403 National Express back home to London; in the Barber Shop; on the coach to Away Games; and making mental notes in the shower (Weird!). People would look at me as if I was mad when I worked in certain spaces but I knew I was working towards a bigger picture which would come in small steps.
In Final Year, if I spoke to my friend on the phone it would be briefly or my phone would be unavailable as it was on Flight Mode. I remember he asked me on WhatsApp when he could call me and I replied, "When I graduate". I could tell that he was annoyed, but he said "OK, do your thing". I respected that he gave me space and understood what I was doing was temporary to get to the point where I could finish all my work on time without the need for extensions (as I relied on extensions for EVERY essay in Second Year). Likewise, he respected me because I told him the truth and set it clear that I just need to give up our phone calls for a short period to focus on getting my work done. I made a commitment that I would not request a single extension in Final Year, and I had to say "No" to phone calls, partying, link ups. All of it. The last party I went to was in October 2015. I even got to the point where I had to temporarily give up certain apps on my phone. I deleted Snapchat and Instagram because I found myself procrastinating on these apps when I wanted to take a "break", and my break ended up being more than one hour looking at everybody's Snapchat and replaying it again just to avoid my work. It takes a lot of guts to say "No" especially to things that you enjoy and are so used to instinctively saying "Yes" to. But if you want to achieve your goals, you are going to have to give up your short-term "needs" for long term achievements.
What's Next Keon!
Since graduating and returning home from my eventful summer, I secured a full time role as Disability Officer at Palace for Life Foundation (charitable arm of Crystal Palace Football Club). This is my dream graduate job and I have loved every minute of it so far! I am responsible for developing and delivering the "Inclusive Eagles" Disability Football Programme in the London Boroughs of Bromley, Croydon and Sutton. This involves: establishing PE curriculum sessions in Special Schools, leading football sessions for the Crystal Palace Down's Syndrome Eagles; line managing a team of Foundation sessional coaches who deliver on the Inclusive Eagles programme and liaising with external partners such as Surrey FA and Royal Society for Blind Children.
Outside of my graduate job, I am a Gold Scholarship Programme Alumni Mentor and continue to manage the communications for IBSA Blind Football. I have published six IBSA articles on the development of Blind Football across the world, of which five have been re-published by the Paralympic Games. I recently went to Nantes on behalf of IBSA Blind Football to write an article on the first phase of the French Blind Football Championship. As for what's next, I want to continue developing my expertise in disability as well as coaching and developing blind football. In 2018, I will be going to Enugu, Nigeria to deliver a Blind Football Coaching Clinic to Bina Foundation Blind Football Club and running the social media pages for the IBSA Blind Football World Championships. One of my long-term goals is to manage the communications for IBSA Blind Football at the 2019 African Championships and Tokyo 2020 Paralympics. In the small amount of spare time that I have, I've been learning French, Igbo and Swahili on YouTube (I enjoy learning other languages and hope to become fluent in one of them!).
For me, I'm not only proud  that I've obtained a degree and not become another society statistic. I'm more proud of the fact that I stuck to what I am passionate about and now I'm beginning to reap the rewards. I'm happy that I can pursue what gives me joy and peace of mind, rather than be involved in gang wars, knife crime and the all rest of it.  I don't look down on anyone who does that as everyone has different circumstances but growing up and especially today more than ever, a  lot of young black males go down that route without knowing the long-term consequences. University is financially and mentally draining, but there are so many fantastic experiences that you can gain than just a degree. Whoever or wherever you are, take your approach to your education how Buster Douglas took his approach to defeat Mike Tyson! Be brave. Be bold. Be Brilliant. Whatever you want in life is achievable!  If you would like to leave feedback or need any further advice, email me at: keonrichardson@hotmail.co.uk or follow me on Twitter: @FinallyKeon. Asante Sana and Kwaheri! (Thank you and Goodbye in Swahilli)