International Careers - International Development and Education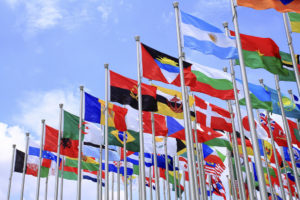 ---
As it is International Careers Week we will be sharing two exciting blog entries written by professionals working in international development. There are still many events to attend this week if you are interested in an international career, check MyFuture for any available spaces. First up we have Katherine who works as an Education Adviser for a NGO in Uganda.
---
Please tell me about yourself and where you work?
My name is Katherine and I work in the field of international development; more specifically in the area of development and education. After having worked for an international children's charity in London, I recently made the move to Uganda to work as an Education Advisor for an NGO delivering education in rural communities.
Describe a typical day at your work
Day-to-day I coordinate and manage the design and implementation of interventions being delivered in schools. This typically involves conducting both desk-based and field research, holding meetings with colleagues from across the team and facilitating discussion, writing reports and conducting monitoring and support visits in schools. My role is also to provide support where needed across the education programmes' team.
Why and how you got into the development field?
As someone who studied Education, I had always been interested in the role that education can play in social change. Throughout my studies, I developed a more specific interest in the role of education in international development. I decided to pursue this interest further by undertaking a Msc in International Development. It was through my masters that I was provided with an opportunity to gain some practical experience working in East Africa with an education focused NGO.
Such an experience cemented my desire to work in the field of international development as it fueled my belief that working towards a positive change, whether it be social, political or environmental, is the most important factor for me when considering a career or job. I therefore decided to pursue this career path post-graduation, since which I have both interned and worked for international charities.
Current challenges in field of international development
A key challenge facing the field of international development is a reduction in international funding and aid as a result of changing political climates. A number of Western governments have made significant cuts to their aid budgets over the past year, resulting in a loss of funding for both large and small development organisations. These cuts have been particularly felt in organisations which deliver global health or environmental conservation programmes.
Key career tips for a student considering a career in international development
If you are considering a career in international development, it is important to gain as much relevant experience as possible. This will likely take the form of internships and volunteering. Whilst volunteering may be difficult to sustain financially, finding opportunities to volunteer whilst you are a student can be particularly beneficial. Both small and large charities and development organisations tend to rely on the  goodwill of volunteers and therefore opportunities are often available. Send your CV and covering letter to any organisation which interests you and offer your services as a volunteer. You can also keep a close eye on organisations via their social media pages where opportunities may often be advertised. Gaining experience in a development focused organisation through internships and volunteering not only greatly enhances your chance of finding paid employment in the sector – many entry level jobs in the field will look for prior experience – but it also allows you the opportunity to learn about and experience the different departments and areas of work involved in the international development field, thus allowing you to develop your own areas of interest.
Another key tip is to stay up to date with news and developments in the field. Situations are constantly changing as a result of political climates, natural disasters, funding availability, conflict etc. It is therefore key to ensure that you remain aware of current international situations. This can be as simple a task as regularly watching the news, reading newspapers and following interntaional development organisations on socail media.
Key links for students to stay up to date with the sector
The Careers Service would like to thank Katherine for her support in writing this blog entry.