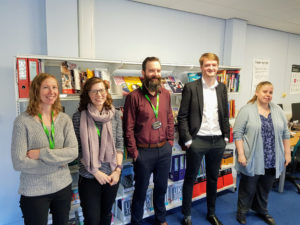 In the Careers Service, we are proud of the expert, confidential and impartial advice that our expert Advisers offer in appointments. However – appointments are not the only way to get useful advice and information.
My name is Rebecca and I am Information Officer who works in the Information Team. We work to provide you with different resources that can help you with all stages of your career planning.
Even if you still need to talk things through with an Adviser, our resources can make sure you get the most out of your appointments.
Today I'm going to give you an overview of the different kinds of information resources and support we can offer you and where you can find them.
Web pages
If you are just getting started in thinking about your career, or maybe have an idea that you might want to go onto Futher Study - our information web pages are the place to start.
These pages are packed full of lots of general advice and overviews to help you get started.
The choose a career section in particular is a great place to start if you are at the I have no idea what I want to do stage (don't worry – you are definitely not the only one).
Access our information web pages
Guides and publications
We also produce loads of in-house information written by our Adviser team.
We have four in-depth guides on different stages of the job process:
Application, CV and cover letter guide
Finding a graduate job guide
Finding work experience guide
Interviews and assessment centres guide
As well as the guides, we produce smaller helpsheets that cover specific career options or issues. Like careers in the charity and not-for-profit sector, how to apply for a PhD or job hunting in China for Chinese students.
All of our guides and helpsheets can be downloaded from our website
View our guides and publications
MyFuture resources – videos and more
You probably already use MyFuture to book appointments and look for jobs. But in the resources tab you can find more of our information resources.
This is where we store webinar and panel event recordings, so you can watch them whenever suits you. We also have a range of videos including videos of job interviews and assessment centres.
We're adding more resources to MyFuture everyday, so keep checking back.
Catalogue
We're working on moving our catalogue into MyFuture but for now you can still find it on our old website. This is where we list all of our own in-house resources but also provide links to lots of external websites that can provide more information on specific careers or issues.
We know it is a bit clunky to find things so if you get stuck or can't find something – let us know.
Information the old fashioned way – books
Most of our resources are online but we do still have lots of books in our office in the Virgil Building. So come and have a browse! Most of these are also listed in our catalogue.
Practice test and interview technique
We're not just about written resources. We subscribe to software packages that let you practice your interview technique and those tricky assessment tests that employers often use in their recruitment process.
Try out
Can't find something? Info Team to the rescue
I'm a librarian by training and just like the Library staff can find you that crucial book or article you need for your essay – the Info Team can help you track down information on all things careers.
"Google can bring you back 100,000 answers, a librarian* can bring you back the right one" – Neil Gaiman.
*or your Careers Info Team
So if you can't find the information you need, we are here to help. The Info Team also manage all the bookings for appointments and look after MyFuture so if you are confused about booking we can help with that too.
Get in touch
Have a question? Get in touch - we are a friendly team who are always happy to help.