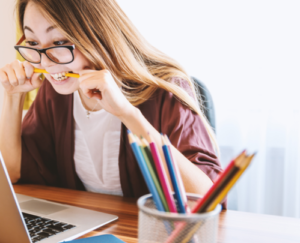 It is a busy time of year for students; you're tackling job and placement applications alongside completing your academic studies and you're also trying to juggle your social life and extra-curricular activities too.
So don't make things harder for yourself by not telling employers what you have actually done!
Avoid the passive
Time and time again, I see students write phrases such as "I was responsible for organising" or "I participated in a collaborative project" or "This job involved serving customers" But this kind of passive language is far too vague and downplays what you have actually done.
Active language
Instead, take responsibility for your actions! Speak with an active voice, so that the employer can visualise you at the centre of the action. "I organised" or "I collaborated with a team of six to complete a design project" or "I worked as part of a team of 5 in a busy city centre retail store, interacting with a diverse range of customers".
For a handy list of active verbs, see Page 4 of the University's guide https://www.bath.ac.uk/publications/application-cv-and-cover-letter-guide/attachments.bho/application-cv-and-cover-letter-guide.pdf
Replicating language
When applying for different roles, it's also a good idea to replicate the language used in the job description within your own CV, cover letter or application form. E.g. if they stress on good leadership skills, talk about when you have led a team or have mentored a student or managed a project. Try not to be too repetitive. A thesaurus will become your best friend.
Make yourself the subject
And remember, this is all about you. Emphasise on activities you have done, or skills you have learned, regardless of whether it was within a team. Make yourself the subject of sentences. There should be no 'we' in replacement of 'I'. E.g. "Within a team of 5, I researched and analysed data to be used to present to our clients".
Key points:
Write using active verbs
Replicate the language used in job description
Sell yourself! Talk about your actions