Our guest blogger today, Maisie Goodson (final year Psychology), reflects on last weeks presentations at our Public Sector Panel event.
Last week we were fortunate enough to hold a careers panel with five excellent speakers all working in different departments of the Public Sector. The The Public Sector is comprised of organizations that are owned and operated by the government and exist to provide services for its citizens. Today's blog features some thoughts from the panel members on working in the public sector and application tips! This will be the first of two posts encompassing all the information from the night.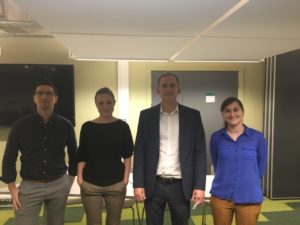 NGDP
The first speaker of the evening was Eden Munro who joined us via Skype, and is now a graduate trainee for the NGDP, the local government graduate scheme. Eden studied Computer Science at Bath and undertook a placement in the private sector. However, he did not enjoy working in this sector and after graduation attained a Masters in Social Policy. Eden told us more about the NGDP scheme; they take 120 grads a year and the scheme involves three placements in a local authority. The NGDP offers a diverse experience, with a focus on learning and development, and Eden highlighted his reason for choosing such a scheme was the tackling of social issues. Placements available during the scheme include communications, policy development and human resources. Eden's first placement will be with the Chief Execs office, and after these placements Eden told us how the scheme will fast track him to a position of influence amongst the council. Eden's tips for a good application were:
Make sure you know the answers to questions they will likely ask, he was up to date on the issues facing the council
At the assessment centre he got to know the other candidates which he credits for his success as the candidates didn't intimidate him
Lots of research is key to a good application, make sure you have a good knowledge of current affairs.
Thanks a lot to Eden for Skyping in, although he couldn't see us we all loved his presentation of the NGDP and wish him success with the rest of his training!
HM Treasury
The second speaker up (and in person this time) was Andy Ormerod-Cloke, a Senior Policy Adviser from HM Treasury, the government department responsible for developing and executing the government's public finance policy and economic policy. Andy says he is motivated by social mobility, having been a Gold Scholar during his time studying politics at Oxford University. He started in the Civil Service 6 years ago, after joining and leaving the ALDI graduate scheme as he found interesting and academic work more important. Andy's projects at the Treasury so far include working on fire department policy and working with a £30 million fund to tackle modern slavery. Andy says his three motivations for joining the Treasury were:
To work on the biggest challenges that face real people
He cares about people not profit
He wanted big responsibility early on.
There was even talk of an office cat, Gladstone, highlighting the friendly environment of the Treasury. So why did Andy say we should work at the Treasury?
It is interesting work, you get to apply minds to problems
It is high profile and influential work you will be working on
There is lots of training and opportunities for career development.
Andy emphasised the Treasury's desire to improve diversity, and that to work in the Treasury there is no need to have an economics degree. For final years applying to graduate schemes he advises self-belief, to be prepared and to have alternate options.
ONS
The third speaker was Paul Cudmore, Head of Recruitment at ONS, the Office of National Statistics. Paul studied English Literature and Psychology at university, and began his graduate path working in retail (the River Island in Bath!) He enjoyed this and moved onto recruitment sales, but joined the ONS 11 years ago and hasn't looked back since. He credits the opportunities available at the ONS; they have paid for him to do two masters in HR management and occupational psychology. The ONS are responsible for the statistics we see in the media every day and they are the largest independent producer of official statistics. They are perhaps most famously known for their baby names statistics, interestingly the most popular baby names of 2017 were Oliver and Olivia. However, there were 255 big Game of Thrones' fans as Paul shared that there were 255 babies named Khaleesi last year! ONS offers many graduate opportunities open to all such as graduate statistician and graduate social researchers, and Paul advises that we all apply!
For further information on Careers in the Public Sector check out: http://www.bath.ac.uk/students/careers/information-resources/catalogue/occupational/index.html#public
https://www.prospects.ac.uk/jobs-and-work-experience/job-sectors/public-services-and-administration