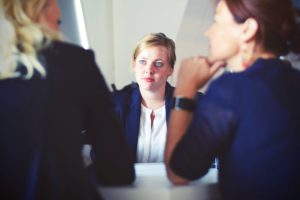 Interviews can be a nerve-racking experience. While you may have spent hours perfecting your application, interviews depend on your performance on the day.
But don't panic! In the Careers Service we have lots of resources to make sure you are confident and well-prepared for whatever an interview may throw at you.
Interview and assessment centre guide
Our interview and assessment centre guide is a great place to start. It's packed full of advice and insight into interviews and assessment centres. The guide also includes information on different types of interviews and questions. This includes traditional face-to-face interviews but also looks at video and telephone interviews which are increasingly common.
InterviewStream
After reading our guide, hopefully you'll feel a bit more prepared for your interview. But it is important to put the theory into practice! The Careers Service offers access to practice interview software called InterviewStream.
InterviewStream lets you pick from a selection of pre-curated interviews or create your own bespoke interview from over 7,000 questions. Once you are ready, you can practice answering the questions and record your responses via a webcam.
I know it can feel really cringey but it is really useful to practice responses out loud and watch them back. If you're feeling brave you can share the recording with your friends and family for feedback too!
Bath Connection
As well as preparing for interviews generally, it's always worth seeing if you can find any insider information for the organisation you are interviewing with.
BathConnection is the University's alumni networking site. Alumni of the university can register as alumni experts and are happy for current students to contact them with questions.
If you have an upcoming interview, it is worth seeing if any of our alumni on Bath Connection may have an insight into the sector, organisation or career path that is relevant to the job you are interviewing for.
Find out more about Bath Connection
GlassDoor
Like BathConnection, GlassDoor can also give you an insight into the selection process. You can search for organisations and view interview reports from other candidates.
To view reviews, you'll need to register with GlassDoor. This is free.
Careers Service appointments
Hopefully the resources above will help you to feel prepared for your interview. However, if you still have some concerns, or there is a particular question that you have no idea how to answer – then our Careers Advisers can help.
You can book a 20 minute Careers Appointment via MyFuture  to talk through interview concerns. These appointments are not long enough for a full practice interview but can be used to practice a few questions and talk through any concerns you might have.
We also offer a limited number of practice interview appointments. These can only be booked if you have received an invite to an interview and are limited to one practice interview per student in Semester One.
Find out more about our appointments
Other resources
Check out the resources tab in MyFuture for even more resources to help you prepare for interviews. Including webinars, videos and links to external websites. Simply search by keyword (try interviews) or choose a topic from the list on the right hand side.
Last minute panic
Employers don't always give a huge amount of notice for interviews. If you have an interview coming up very soon, all these resources might feel a bit overwhelming.
Have a look at our last minute help guide, which covers the key things you should do to prepare.
Read our last minute interview help
Good luck with your interviews