Many students see this as a daunting prospect. You've just perfected your CV and NOW you're being asked for a cover letter.
But don't be put off – even if the cover letter is optional, complete one! It's a great opportunity to demonstrate how much you want this position and how you can prove that you've got the skills to do it.
Below is a guide that will help you when approaching cover letters. This week will focus on the structure and planning writing your cover letter.
Structure – Piece of persuasive writing
Your cover letter needs to prove to employers how interested you are in the position you're applying to and whether your skills and experiences make you the best candidate for the role. To do that:
Create a clear and concise structure – beginning, middle and end (4-5 short paragraphs) and 1 A4 page MAX.
Emotive language – 'passionate' 'eager' 'excited' – professional, yet personable
Research – So important!
Who will receive and read the letter (try LinkedIn/company website's 'About Us' page)
The skills and experience required (know the job description inside out!) - if your job description is brief, try searching Indeed.com for similar roles
The company and its culture (try company website, Glassdoor.com, Bath Connection)
Competitors / company's market position (remember, why is this relevant to why you're applying)
The sector and recent news / trends / awards won
The company's aim / mission statement – refer to their values or specific campaigns
1st Paragraph – Opening Statement
Who you are (I am an Undergraduate Marketing Student...) 
Indicate the position you're applying for
Where you learned about the available job (advert? Referral?)
When are you available to start?
2nd Paragraph
What attracted you to this type of work? Job role / sector
Why you're interested in working for that particular company (how do they differentiate from other similar companies? Values? Key clients?)
Why you're suitable / what you can offer
Demonstrate your research
Make it personal! Boost your power of persuasion - let the employer know you're a human with passions!

 

Have you had a passion for this industry since childhood?
Have you attended networking events? Careers Fairs?
Is it a current topic of interest? E.g. helping the environment
3rd Paragraph
Highlight relevant experience
Demonstrate how your skills match their specific requirements
What tasks are you most looking forward to doing? Which of your skills do you believe are strongest? How will those skills best equip you for specific tasks? Which skills are you most looking forward to developing further?
Summarise any additional strengths – how can these benefit company
Last Paragraph – Round up the letter
Reiterate your interest in the role - I am eager to begin a career with… This is the perfect role for me…
Indicate your desire for an interview (dates available / unavailable)
Thank them
Assume that they will be meeting you! - (I look forward to discussing my application with you further… Looking forward to meeting you soon)
Planning writing your cover letter
A process of matching your skills and experiences to those required in the job
Study the job description and person specification
Which skills and characteristics are the most important for the role?
Highlight the key skills and characteristics
Write these key points in a note pad (either spider diagram or as headings)
Now match
o   Think of examples from your academic / work / personal backgrounds that show you have these key skills/characteristics
o   Try to include the positive end result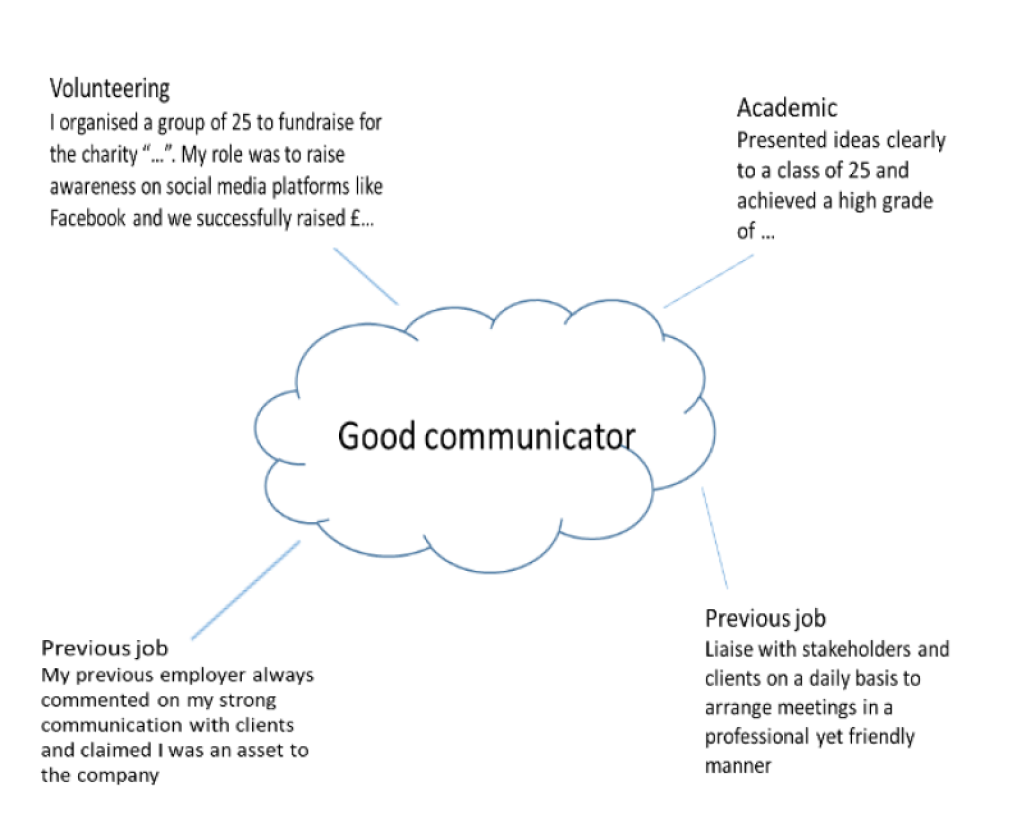 Things to remember
Focus on motivation for role – why you are interested, why your skills relate to job
Don't simply repeat facts from your CV – be specific on why you are a strong match based on experiences
1st impression is critical! Check typos and grammar
If it is generic, it is likely to be rejected
Useful Resources