Our talented Information Team Student Administration Assistant Toni Murphy created this excellent 12 days of Careersmas poster down in Careers Service in the Virgil Building and if you have not seen it I thought this would be a shame not to share it more widely, just in time for Christmas. In addition, please have a read of our Christmas Opening Hours and some last Christmas tips from me.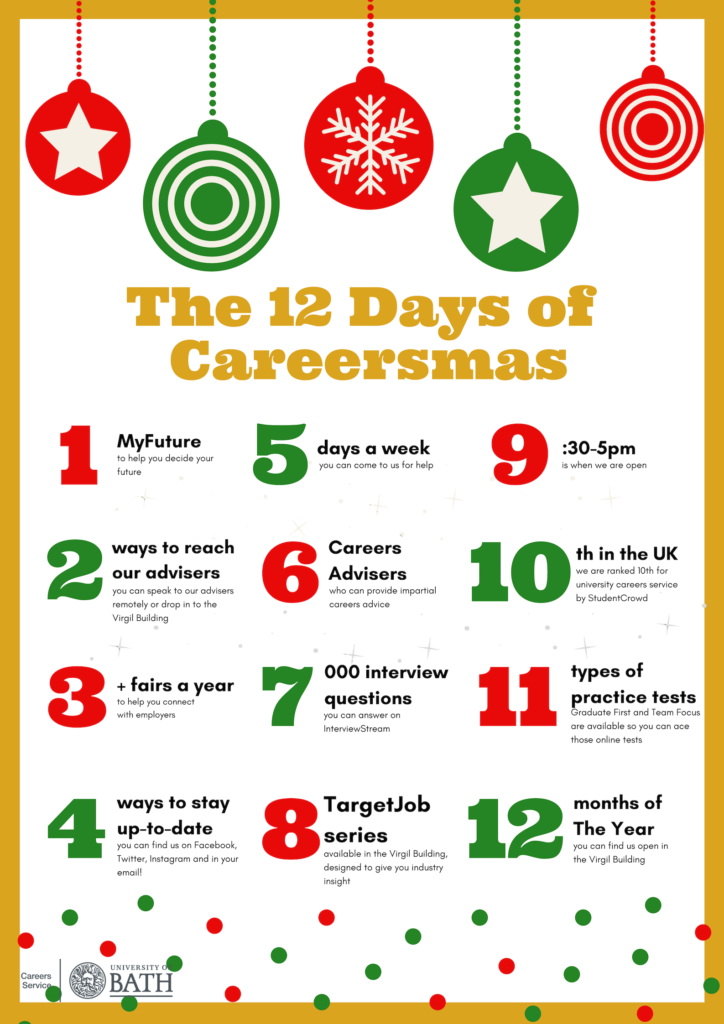 Christmas Opening Hours
In addition, please be aware the Careers Service is open every day next week, 17th - 21st December with a limited amount of appointments available. In addition, we re-open on 2nd January and is open every day between 2nd and 4th January. Appointments can be booked through MyFuture as normal. The University is shut between Saturday 22nd December and Monday 1st January and therefore we will not be open on these days. Near normal service starts on Monday 7th January with increased appointment availability through the rest of January.
Please bear in mind that not the whole University is closed during Christmas, see here for activities both on and off campus and wellbeing advisor drop-in times.
Last Christmas Tips - make sure to rest, relax and refresh
I have seen many students who are planning to study and do some job research this Christmas holiday season. I also advise you to rest, relax and refresh. Go for a nice walk in the winter sunshine, eat some lovely food, spend times with friends and/or family, where ever you are, or just cuddle up in your favourite sofa, whether that is at home or at a local cafe, with a nice easy readable book.
We wish you a wonderful holiday season, thanks for all your careers queries, inspiration and thoughts this term and we look forward to welcoming you back in 2019.
Any questions? Reach us on 01225 38 6009 or careers@bath.ac.uk